Sweet and comforting, this Praline Topped Apple Bread is the perfect start to your day! Recipe makes two loaves, and freezes well too!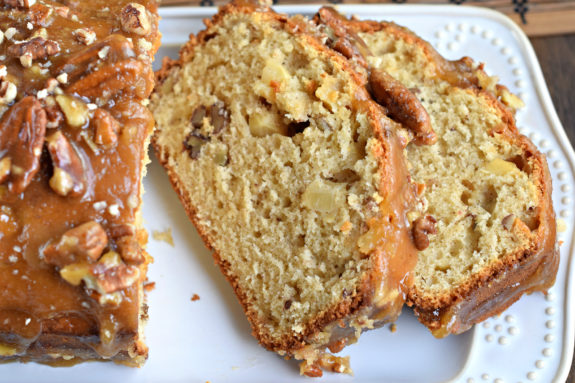 My house has very drafty windows. It's on our list of things to replace by the end of 2017, but until then we freeze in the winter and sweat in the summer.
One way to combat the crazy cold house, besides blasting the furnace, is to bake. The heat from the oven fills the whole first floor…and of course the scent of apple and cinnamon fills the entire house.
And when it comes to making quick bread recipes, well, this ain't my first rodeo. One thing I love to do is make sure that my bread recipe will yield TWO loaves. I mean, if I'm going to go through the effort of baking bread…I want enough for my family to enjoy for a couple days. Or, at the very least, be able to freeze a loaf of bread to enjoy at a later date.
Today's Praline Topped Apple Bread recipe will allow for you to freeze the bread, however, once thawed, the praline topping doesn't look as pretty (still tastes wonderful though). If looks matter to you, you can freeze the bread BEFORE making the topping, and make a fresh batch of praline topping for your thawed loaf of bread (if you're only making praline for one loaf, just halve the recipe, it's crazy easy to make).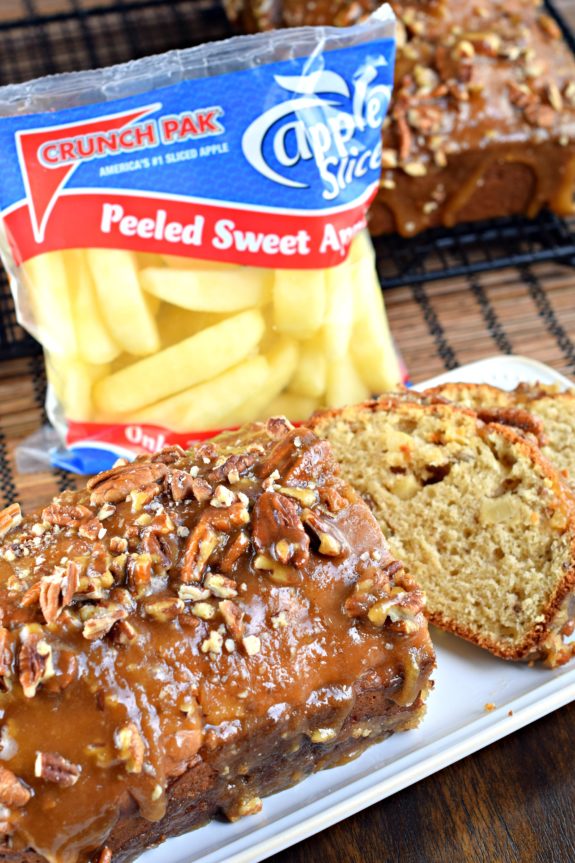 Another shortcut I love is to use Crunch Pak apple slices! Not only do they make the individual snack bags, which are perfect for lunches or on the go athletes like my family…but they also make bags of sliced apples. That are already peeled. And they don't taste chemical-like AT ALL.
WIN WIN WIN.
A few tips about making this Praline Topped Apple Bread:
Prepare your bread pans by spraying them with baking spray AND lining the bottom with a small piece of parchment paper. Nobody wants their bread to stick to the bottom and be ruined, this extra step guarantees they will come out perfect!
Make sure you dice your peeled apples into thumbnail sized pieces, and your pecans too!
If you don't have sour cream, you can substitute plain (or vanilla) GREEK yogurt in this recipe (must be greek though, as it's thicker in consistency)
For the glaze, once you've boiled the brown sugar and butter, spoon small amounts over your bread then sprinkle with pecans. Repeat several layers until all the glaze is used!
Once the glaze hardens, wrap in foil and keep at room temperature until ready to serve! ENJOY!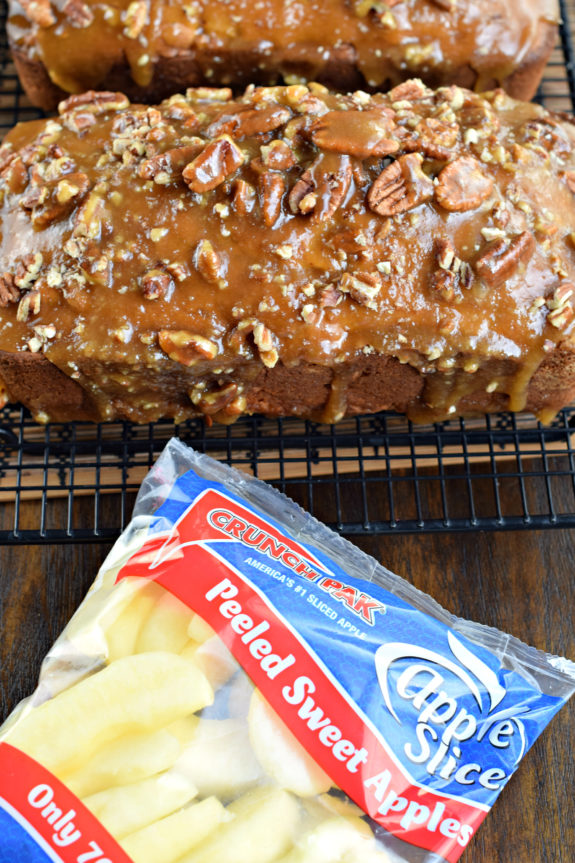 Be sure to stop on over to Crunch Pak for some delicious recipes and ideas!
Be sure to follow me on Instagram and tag #shugarysweets so I can see all the wonderful SHUGARY SWEETS recipes YOU make!