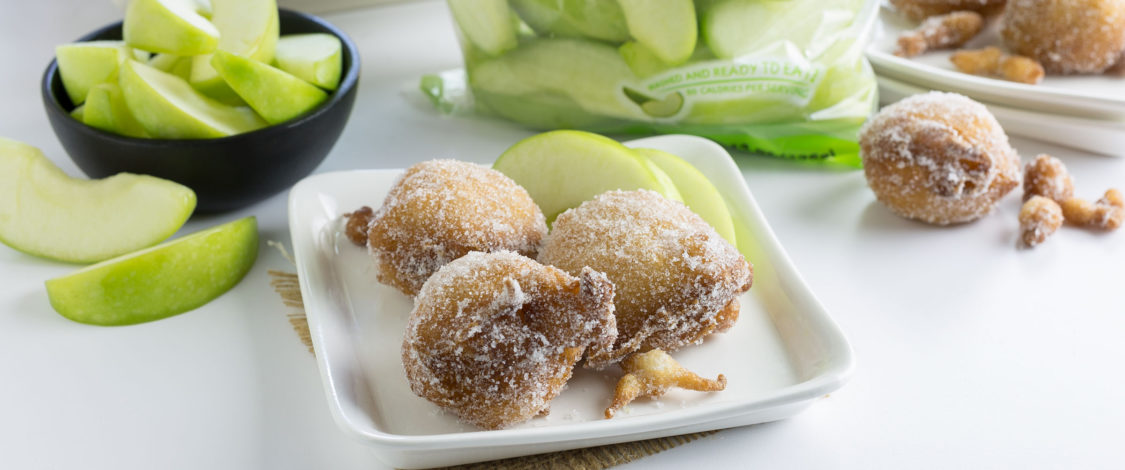 Warm Apple Fritters
Prep Time:15 minutes
Yields:8 servings
Ingredients:
2 cups Crunch Pak tart apple slices, peeled and chopped small
2 cups self-rising flour
1-½ cups sugar, divided
½ cup milk
½ cup apple juice
2 eggs
3 Tbsp. butter, melted
½ tsp. cinnamon
½ tsp. nutmeg
Canola oil for frying
Method
Preheat deep fryer with canola oil to 350 degrees. If using a skillet make sure oil comes 1-½ inches up sides of skillet.
In a large bowl mix flour, ¾ cups sugar, milk, apple juice, eggs, apples, butter, cinnamon, and nutmeg.
Drop batter with a spoon down into hot oil for 3-4 minutes. You can fry up to 4 at a time. Turn one time with a spoon and fry for 3-4 minutes until golden. Place on to a paper towel lined platter to soak up remaining oil.
Roll fritters in remaining ¾ cups of sugar.