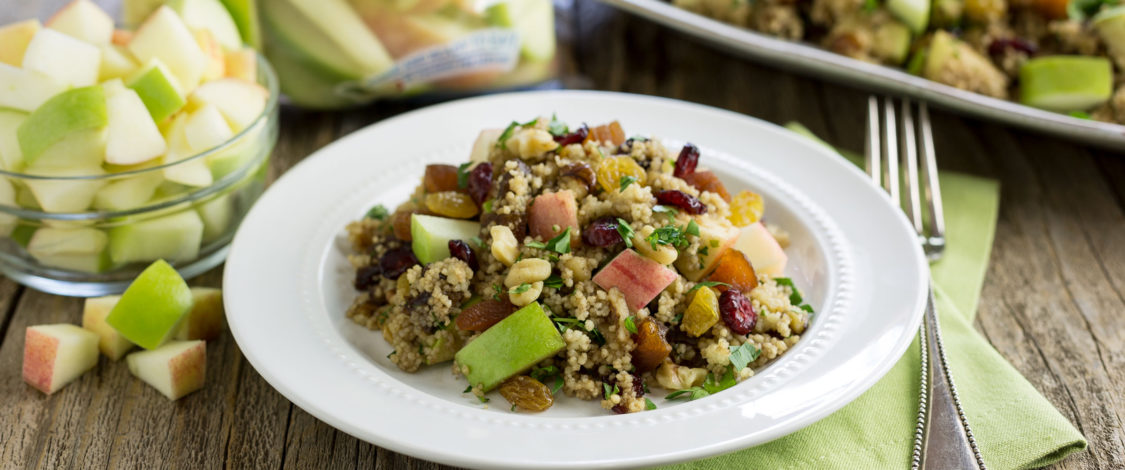 Jeweled Couscous Salad with Balsamic Vinaigrette
Ingredients:
2 cups couscous
2 cups Crunch Pak mixed apple slices, chopped
1 cup walnuts, chopped
1 cup dried cranberries
1 cup dried apricots, chopped
½ cup golden raisins
1 cup fresh parsley, chopped fine
Balsamic Vinaigrette:
½ cup balsamic vinegar
¼ cup olive oil 1 tbsp.
Dijon mustard
3 tbs. honey
salt
pepper
Method
In medium bowl combine vinegar, mustard, and honey. Slowly drizzle in olive oil until incorporated. Season with salt and pepper; set aside.
Bring four cups of water to a boil in a medium pot then add couscous. Cook for 10-12 minutes or until couscous is tender; drain and set aside.
In a large bowl add the cooled couscous, apples, walnuts, cranberries, apricots, and raisin. Mix with a large spoon until combined. Stir in parsley. Add the balsamic vinaigrette before serving and toss to coat. Serve cold or at room temperature.
Jeweled Couscous Salad with Balsamic Vinaigrette