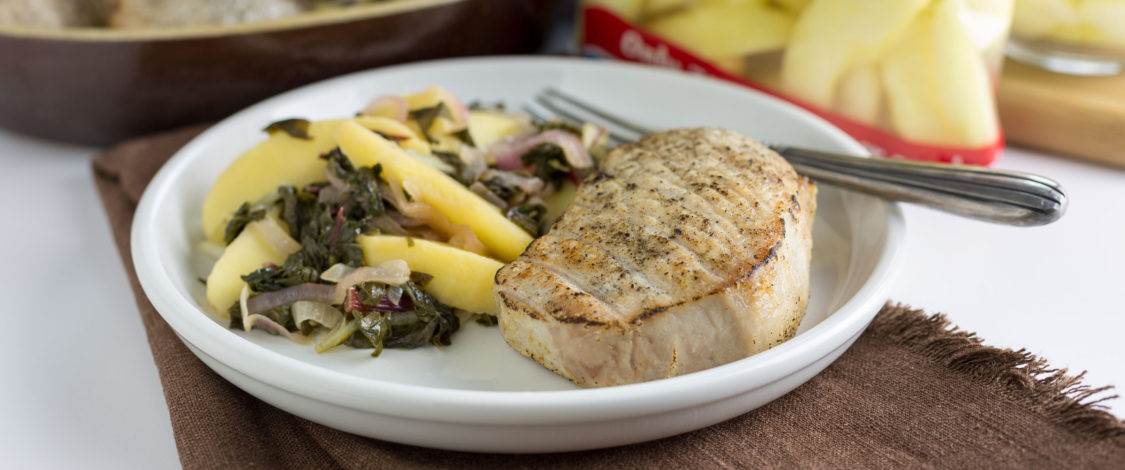 Swiss Chard with Apples, Onions and Pork Chops
Prep Time:45 minutes
Yields:4 Servings
Ingredients:
1 bunch Swiss chard, washed and chopped
4 boneless pork chops
2 Tbsp. canola oil
2 cups Crunch Pak sweet apple slices
1 small red onion, thinly sliced
1 cup chicken stock
¼ cup apple cider vinegar
2 Tbsp. butter
¼ teaspoon garlic salt
Salt
Pepper
Method
Season pork chops with garlic salt and pepper on both sides. In a large nonstick skillet heat oil and brown both sides of pork chops on medium high heat . Cook for 6-8 minutes until fully cooked; set aside.
In same skillet add onions; cook for 4-5 minutes until tender. Add apples and chicken stock. Slowly add Swiss chard. Cook for 5-8 minutes until the greens have reduced to half and apples are tender. Add vinegar, salt, pepper. Add butter and stir into the greens until butter is melted.
Place pork chops back into skillet and warm through. Serve chops with chard, apples and onions.
Swiss Chard with Apples, Onions and Pork Chops