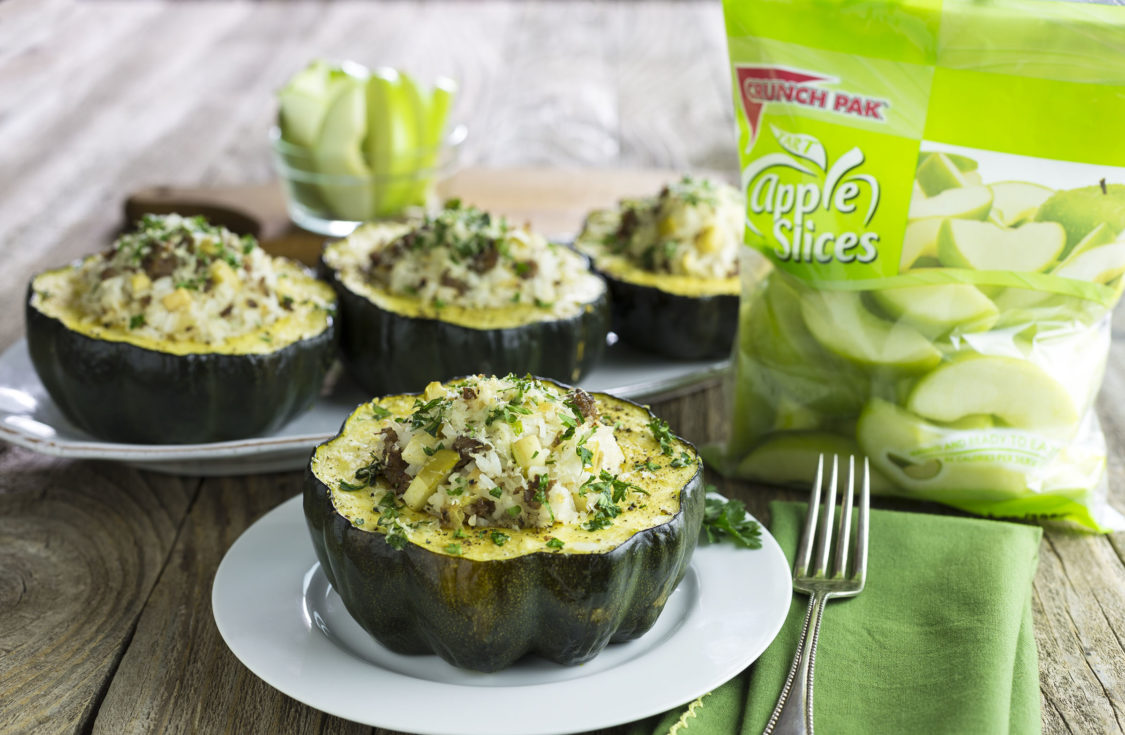 Stuffed Acorn Squash Cups with Sausage and Apples
Prep Time:1 hr
Total Time:1 hr 50 minutes
Yields:6 servings
Ingredients:
3 medium acorn squash
2 cups white rice
1 pkg. (16 oz.) bulk sausage
1-½ cups Crunch Pak sliced tart apples, diced
1 medium onion, diced small
¼ cup Parmesan cheese
2 Tbsp. olive oil, divided
6 Tbsp. butter
2 Tbsp. fresh parsley, chopped
4 cups water
Dash of salt
Dash of pepper
Method
Cut squash in half and scoop out the pulp and seeds. Cut bottoms so they stand upright. Place squash on a 13 x 9-inch baking foil lined baking pan. Add 1 tablespoon of butter and salt and pepper to each squash cup. Bake for 1 hour in 400 degree preheated oven; set aside on baking pan.
Boil 4 cups of water with rice and 1 Tbsp. of olive oil. Cook rice until tender;  set aside.
Heat 1 Tbsp. olive oil in a large skillet and add onion and sauté for 2-4 minutes. Add sausage to skillet, break apart with a spatula and cook through; strain excess fat. Combine cooked rice and apple with the sausage mixture. Season with salt and pepper.
Add sausage mixture to each cooked acorn squash cup and top with Parmesan cheese  and parsley. Return to a 400-degree preheated oven for 10 minutes until cheese begins to brown.
Stuffed Acorn Squash Cups with Sausage and Apples