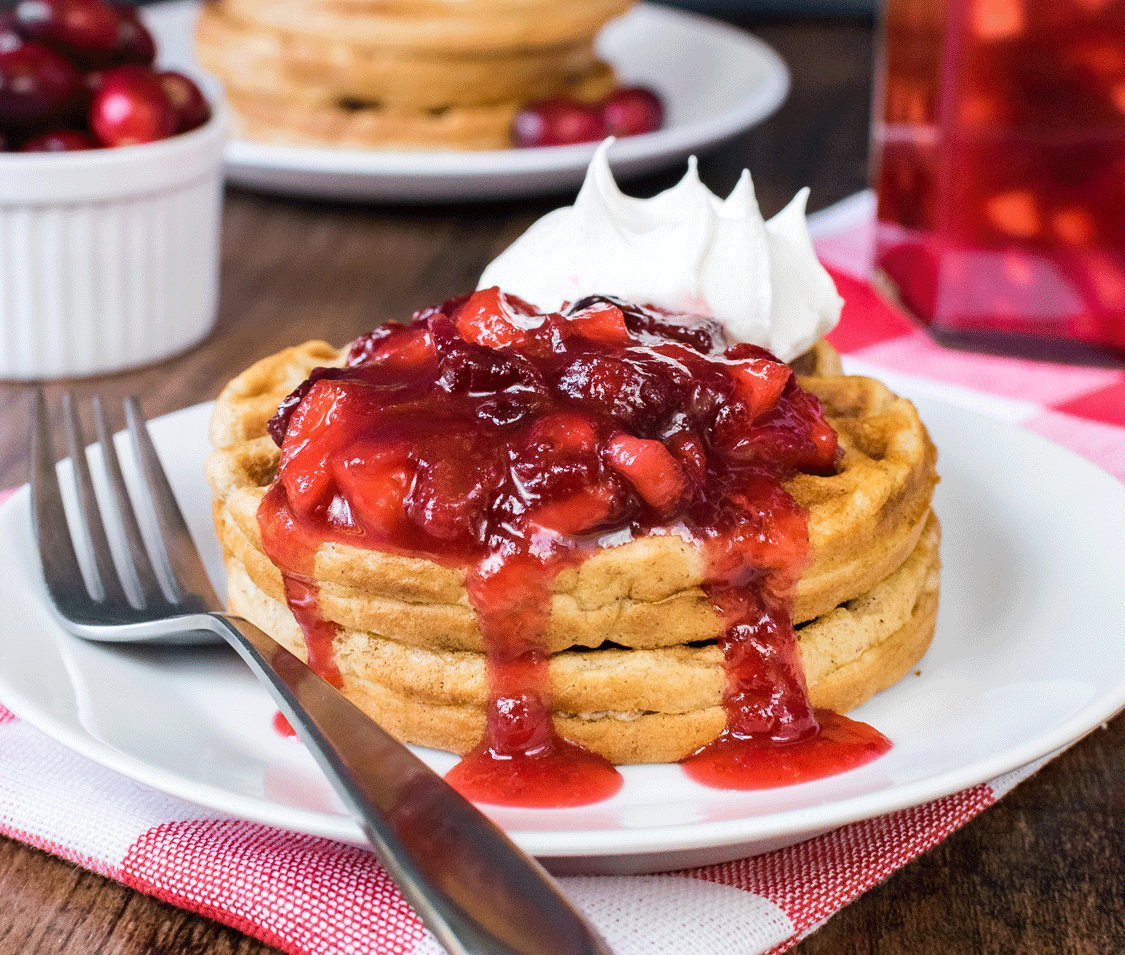 Spiced Apple Waffles
These easy homemade Spiced Apple Waffles are best served warm with maple apple cranberry sauce and whipped cream. It's an awesome breakfast for weekends or holidays.
Prep Time:20 minutes
Total Time:23 minutes
Yields:18 - 6 inch round waffles
Ingredients:
For the Apple Waffles
2 cups flour
1/2 cup brown sugar
2 teaspoons baking powder
1/2 teaspoon baking soda
1/2 teaspoon salt
2 teaspoons apple pie spice
1/4 cup cornstarch
3/4 cup buttermilk
1/4 cup butter, melted
2 eggs
1 teaspoon vanilla
1 – 12 ounce bag peeled Crunch Pak apples, shredded (2 cups)
For the Maple Apple Cranberry Sauce
1 1/4 cup fresh cranberries
1 1/2 cups diced peeled Crunch Pak Apples
3/4 cup maple syrup, divided
2 Tablespoons butter
Method
Mix together the flour, brown sugar, baking powder, baking soda, salt, and apple pie spice.
Whisk together the buttermilk, melted butter, eggs, and vanilla. Slowly pour and mix into the dry ingredients.
Stir in the shredded apples gently. Spoon the batter on a heated waffle iron. Cook for 3 minutes. Remove and serve immediately. Or refrigerate and heat in a toaster later. Makes 18 – 6 inch round waffles.
Place the cranberries, apples, and 1/4 cup syrup in a skillet. Cook over medium heat until the apples and cranberries are soft and the excess liquid cooks off.
Add the butter and stir until it melts. Whisk in the rest of the maple syrup. Serve over warm waffles.