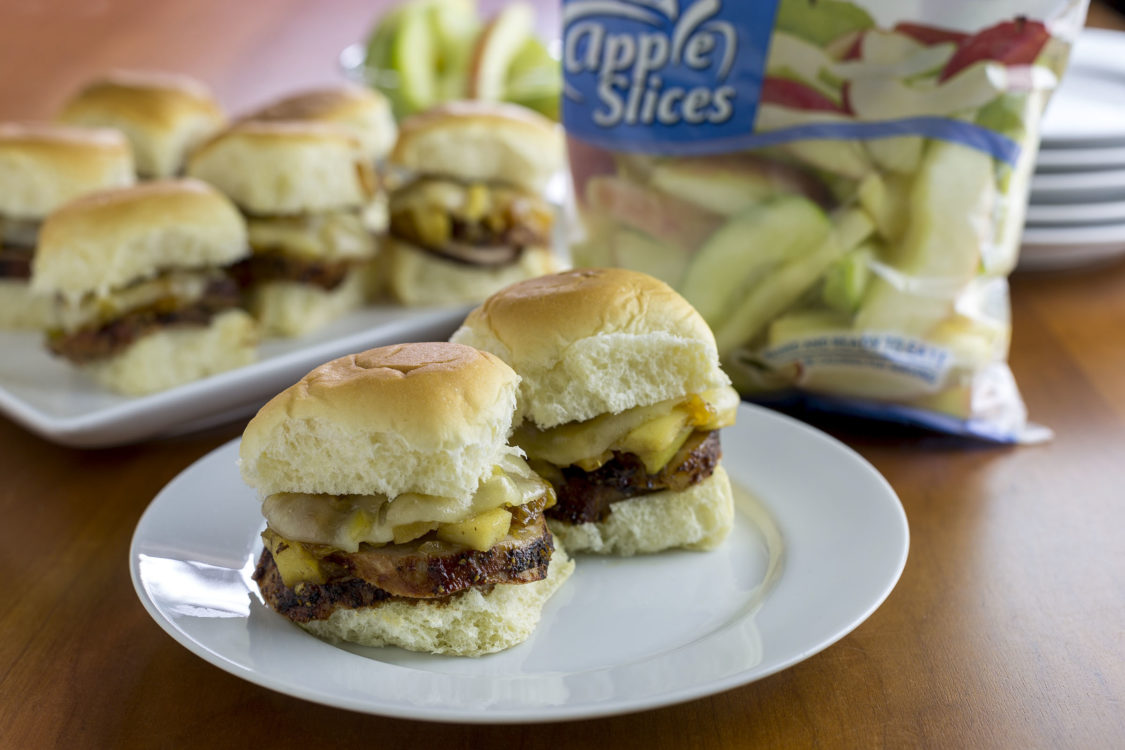 Pork Loin Sliders with Apple Chutney and Smoked Cheese
Elevate your Slider game with Pork Loin Sliders, Apple Chutney and Smoked Cheese!
Prep Time:1 hr
Yields:12 servings
Ingredients:
1 pkg. (1-1-½ lbs.) pork loin
1 pkg. (8oz.) package of smoke flavored provolone cheese, sliced
1 pkg. (12 oz.) bakery dinner rolls
¼ cup prepared honey barbeque sauce
Salt
Pepper
Apple Chutney:
2 cups Crunch Pak Mixed Apples, diced
1 medium onion, chopped
½ cup golden raisins
¼ cup cider vinegar
¼ cup packed brown sugar
1 teaspoon ground ginger
½ teaspoon crushed red pepper
½ teaspoon cumin
2 Tbs. butter
Method
Open pork loin package and place meat into a foil lined 8×8-inch baking dish. Cover the pork with barbecue sauce until well coated. Season with salt and pepper. Bake in 375-degree preheated oven for 40 minutes.
Prepare chutney while the pork bakes. Add butter to a medium skillet and cook onions for 2 minutes until softened. Add apples, raisins and vinegar and cook until apples are tender. Add sugar, ginger, red pepper and cumin and cook for 5-6 more minutes; set aside.
Slice pork loin into small slices and place a few pieces on the half of each dinner roll. Top with chutney and place a half slice of cheese on each slider. Place each slider on a large foil lined baking sheet and broil at 500 degrees until cheese is melted.
Pork Loin Sliders with Apple Chutney and Smoked Cheese