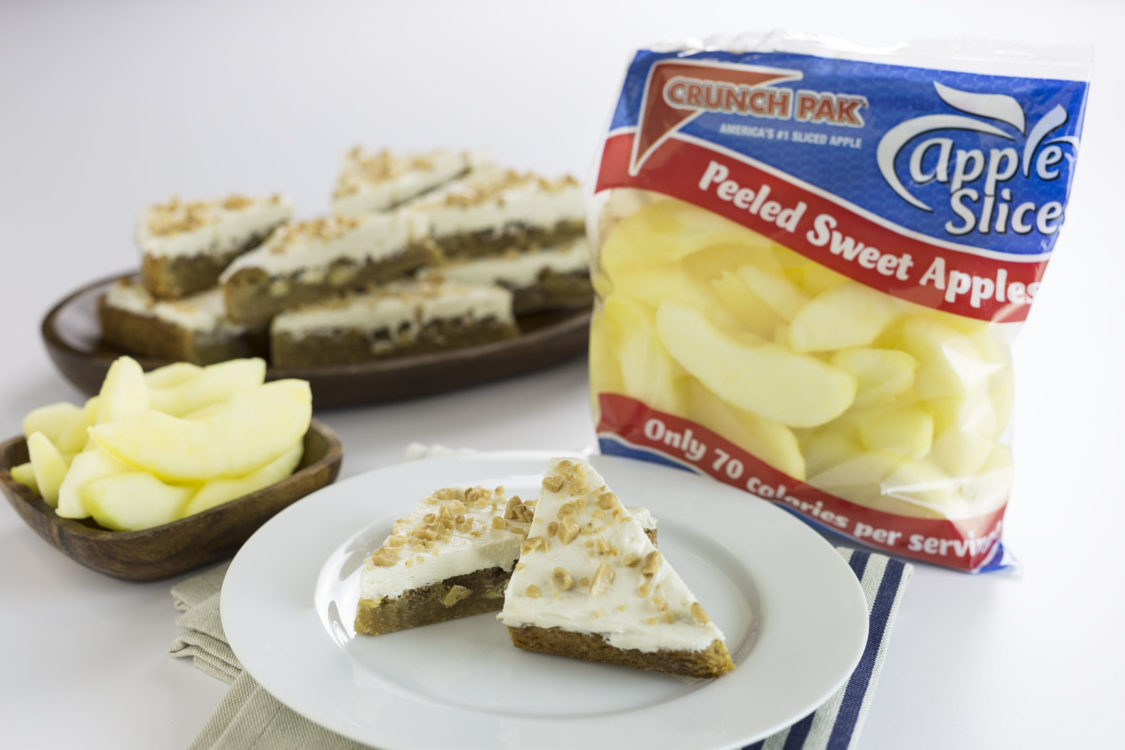 Apple Blondies with Caramel Buttercream
Prep Time:45 minutes
Yields:8 servings
Ingredients:
1 cup light brown sugar, packed
1/2 cup unsalted butter, melted
1 large egg
1 tsp vanilla extract
pinch of kosher salt
1 cup all purpose flour
Filling:
1 Tbsp unsalted butter, melted
1/2 cup Crunch Pak apples, peeled and diced
1/4 cup toffee bits
2 Tbsp all-purpose flour
1/2 tsp ground cinnamon
Frosting:
1/2 cup unsalted butter, softened
2 cup powdered sugar
2 Tbsp caramel sauce
2 Tbsp heavy cream
2 Tbsp toffee bits
Method
For the blondies, line a 9inch square baking dish with parchment paper. Spray with baking spray and press paper to sides of pan. Set aside.
In a small bow, mix filling ingredients together with a fork. Set aside.
In a large bowl, mix brown sugar with melted butter until smooth. Add egg, vanilla, salt and flour. Pour into bottom of prepared pan. Top with apple filling. Bake in a preheated 350 degree oven for 25-30 minutes.
Remove from oven and cool completely before frosting.
For the frosting, beat butter until light and fluffy, about 3-4 minutes. Add powdered sugar, caramel and heavy cream. Beat an additional 3-4 minutes until desired consistency.
Remove parchment paper from pan and place blondies on a large platter (or cutting board). Frost bars and sprinkle with remaining toffee bits. Cut into large squares, then into triangles. Store in a covered container in the refrigerator until ready to serve. ENJOY!
Apple Blondies with Caramel Buttercream