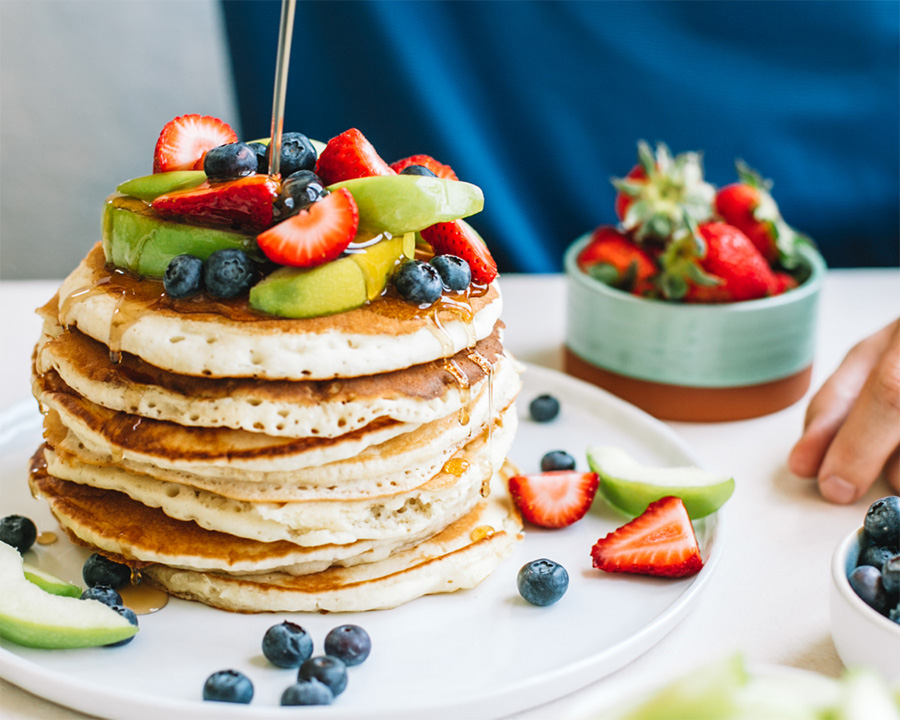 Pancakes with Apples, Strawberries and Blueberries
What's better than waking up to a stack of freshly made pancakes? Add some apples, strawberries, and blueberries to sneak in that recommended serving of fruit for the day!
Prep Time:5 Mins
Total Time:10 Mins
Yields:15 small pancakes
Ingredients:
1 cup all-purpose flour
1 teaspoon baking powder
1/2 teaspoon baking soda
1 tablespoon sugar
Pinch of salt
1 large egg
1 1/2 to 2 cups buttermilk
2 tablespoons coconut oil
Crunch Pak Sweet Apple Slices
Strawberries, halved
Blueberries
Method
In a large mixing bowl, whisk the egg.
Add the buttermilk  and coconut oil, then the rest of the ingredients and mix until smooth. If the batter seems thick, add a little more milk or water.
Grease pan, and cook pancakes on medium heat. It's hot enough when water drops can bounce off.
When pancakes bubble and edges are set, flip and cook until both sides are brown.
Serve with maple syrup and top with sweet apple slices, strawberries and blueberries. Enjoy!
Recipe Tip:
Get the kids involved by having them wash and prepare the strawberries and blueberries, and pour the pancake batter into the pan!
Pancakes with Apples, Strawberries and Blueberries