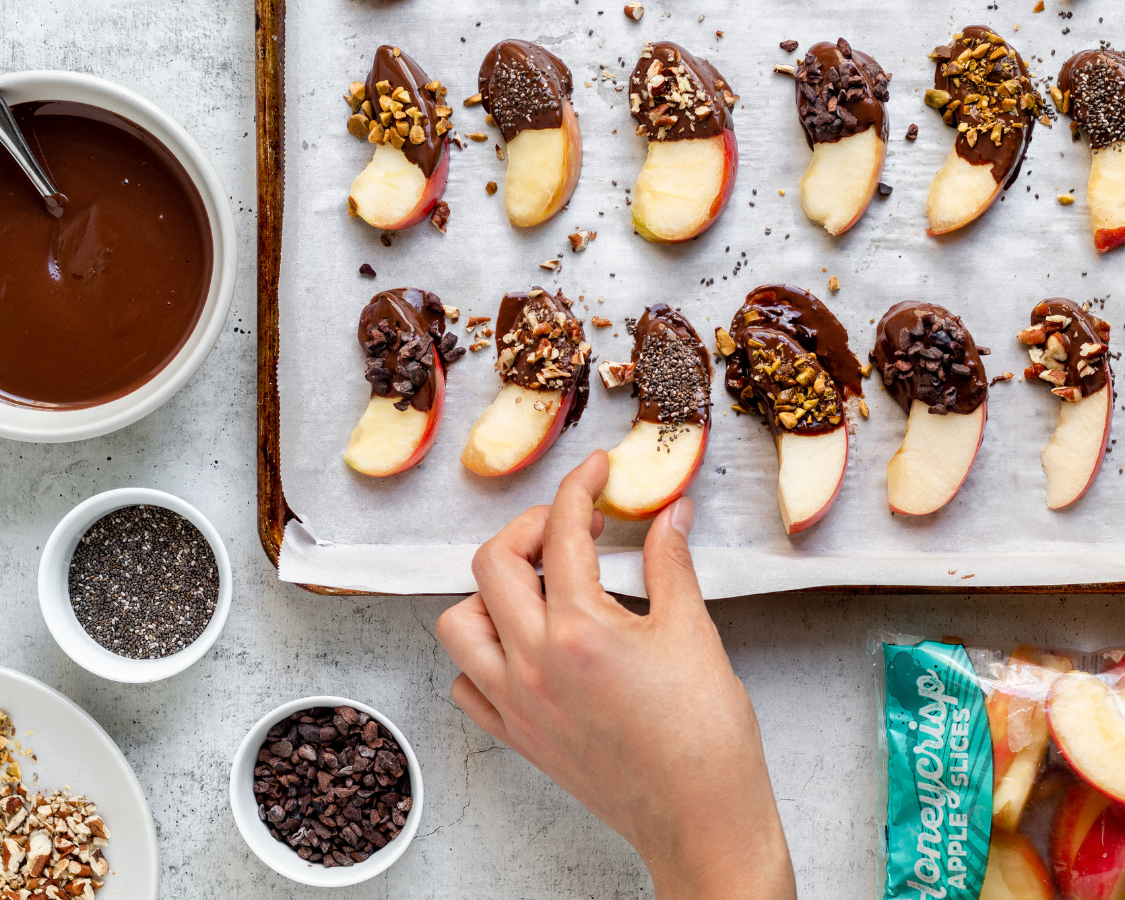 Chocolate-Dipped Apple Slices
Say hello to your new favorite snack! Top our pre-sliced Honeycrisp Apples Slices with your choice of healthy toppings. Our friend The Mindful Hapa added pecans, pistachios, cocoa nibs, and chia seeds, but you can mix it up with whatever you like!
Prep Time:5 Mins
Total Time:20 Mins
Yields:3 Servings
Ingredients:
1 packet – Crunch Pak Honeycrisp Apple Slices (or Crunch Pak apple slices of choice)
3⁄4 cup semi sweet or dark chocolate chips
1 tbsp unrefined coconut oil
1⁄4 cup roasted pecans, chopped
1⁄4 cup roasted unshelled pistachios, chopped
1⁄4 cup cacao nibs
1⁄8 cup chia seeds
Method
Line a baking tray with parchment paper and set aside.
Melt the chocolate chips and coconut oil in a microwave-safe bowl for 45 seconds. Remove from the microwave and stir. Continue microwaving, stirring every 30 seconds until the chocolate has melted and you have a smooth consistency.
Line your apple slices on the parchment-lined baking tray. Dip each slice in chocolate and place back down on the tray.
Sprinkle one quarter of the apple slices with the pecans, one quarter with the chia seeds, one quarter with the pistachios, and one quarter with the cacao nibs.
Place baking tray in the fridge for about 10-15 minutes, or until chocolate has hardened and the toppings are set.
Store chocolate dipped apple slices in an airtight container in the fridge for 4-5 days.
Chocolate-Dipped Apple Slices