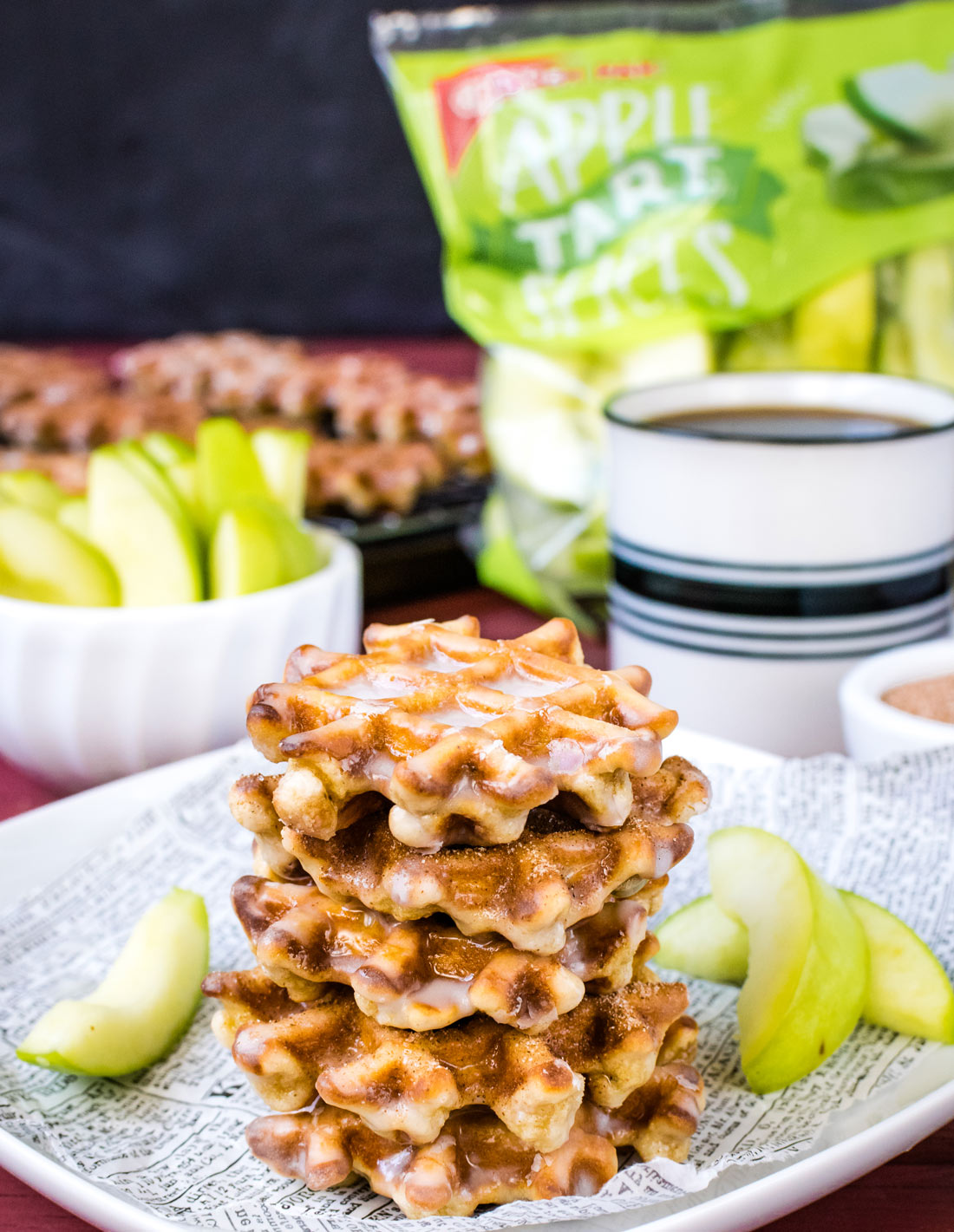 Mini Apple Fritter Waffle Donuts
The pieces of apples and the sweet glaze on these Mini Apple Fritter Waffle Donuts will have you reaching for a few more donuts in a hurry.  Perfect snack to enjoy with a cup of coffee this afternoon.
Prep Time:10 MIN
Total Time:25 MIN
Yields:24 Waffle Donuts
Ingredients:
For the Waffle Donut batter:
1/2 cup flour
1/2 teaspoon cinnamon
1/4 teaspoon nutmeg
2 Tablespoons sugar
1 teaspoon baking powder
1/4 teaspoon salt
1 teaspoon cornstarch
1 egg
1/3 cup milk
1/2 Tablespoon oil
1 1/2 cups shredded Crunch Pak apples
For the Glaze
2 cups powdered sugar
4 Tablespoons milk
1/2 teaspoon vanilla
cinnamon sugar
Method
Preheat your waffle iron.
Stir together the dry ingredients. Whisk in the egg, milk, and oil.
Gently stir in the shredded apples.
Spray the waffle iron with nonstick spray. Drop the batter by Tablespoon onto the waffle iron. Cook 3-5 minutes, depending on how hot your iron gets. (I used a small Dash waffle iron and I cooked each one 5 minutes.)
Place the waffle donuts on a wire rack to cool.
Whisk together the glaze ingredients. Dip each waffle donut in the glaze. Flip it around and let the excess drip off. Sprinkle with cinnamon sugar, if desired. Let set.
*These are best served the day they are made. If you need to store them, place them in the refrigerator in a loosely sealed container. Reheat in the microwave for 5-7 minutes for that fresh from the waffle iron taste.
Mini Apple Fritter Waffle Donuts