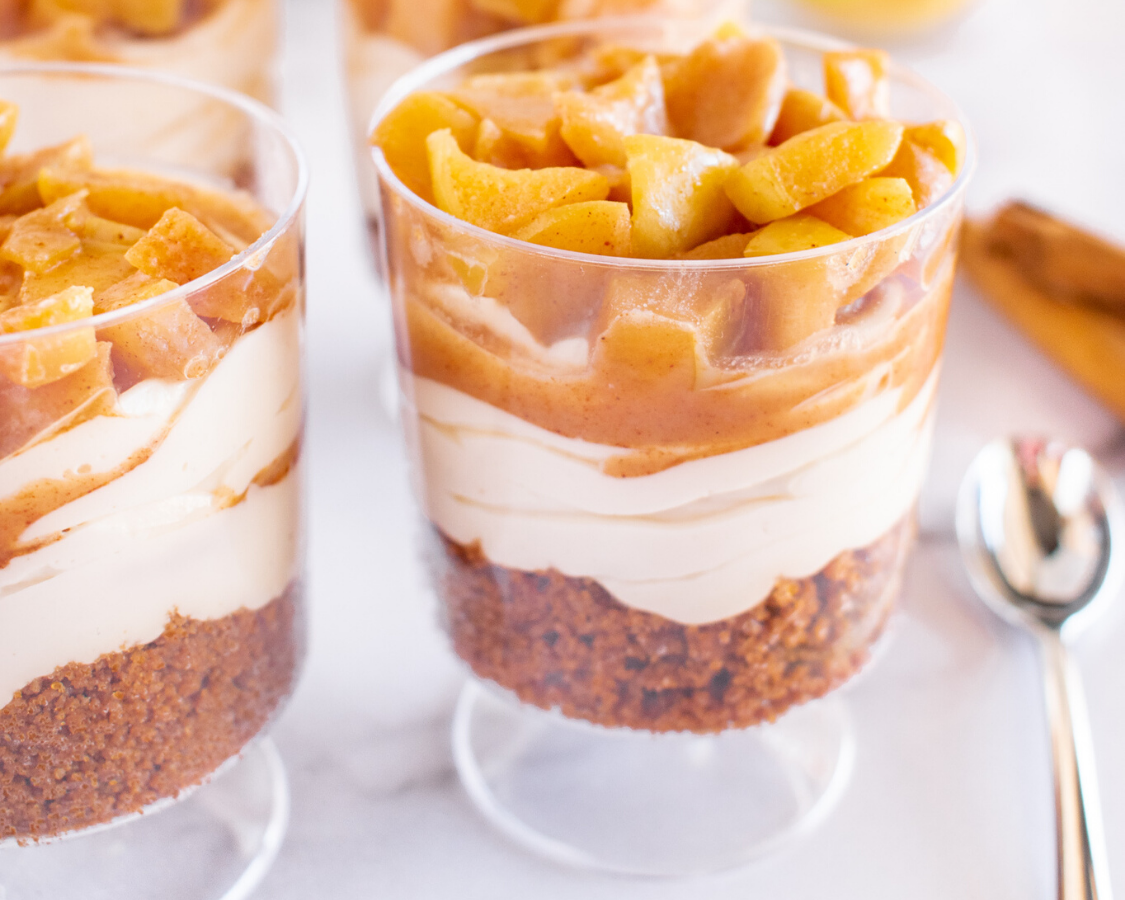 Mini Apple Cheesecake Parfaits
Mini cheesecakes parfaits layered with a delicious ginger cookie crust, a sweet cream cheese layer and cinnamon apples on top. These bite-sized desserts  by Wonder and Charm are perfect for any party.
Prep Time:20 minutes
Total Time:1 hr and 30 minutes
Yields:8 servings
Ingredients:
Cookie Crust:
11⁄2 Cup Ginger Cookies
1/4 Cup Butter, melted
Cinnamon Apples:
Cheesecake:
1/2 Cup + 2 Tbsp Heavy Cream, Cold
12 oz Cream Cheese, Softened
1/4 Cup Sugar
2 Tbsp Powdered Sugar
2 Tbsp Sour Cream
1 Tbsp Vanilla Extract
Method
In a food processor crush the cookies into they have become fine crumbs.
Add in the melted butter until combined.
Spoon in a layer of the cookie crust into the mini parfait cups.
Once all done place the cups in the freezer until we are ready to add the other layers
Cinnamon Apples:
In a small saucepan over medium-low heat melt the butter slightly.
Add in the brown sugar and cinnamon. Stir until the brown sugar has dissolved.
Add in the diced apples, mix together until all the apples are coated.
On low heat let the apples simmer for 10 -15 minutes.
Take off heat and let the apples cool; set aside.
Cheesecake:
Using a hand mixer or standing mixer beat the heavy cream until stiff peak begins to form.
Spoon heavy cream mixture into a separate bowl and set aside.
In a medium bowl, beat together the cream cheese and sugar until smooth.
Add in the powdered sugar, sour cream, and vanilla extract. Mix together until everything is combined.
Using a rubber spatula, fold in the heavy cream mixture into the cream cheese mixture until combined.
Layering the Parfaits:
Using a piping bag or a spoon, add a layer of the cream cheese mixture into the parfait cups.
Then add a layer of the cinnamon apples.
Continue layering until the whole cup is filled.
Once you are done layering place in the fridge overnight to allow the cheesecake to set.
Grab a spoon and enjoy!
Mini Apple Cheesecake Parfaits