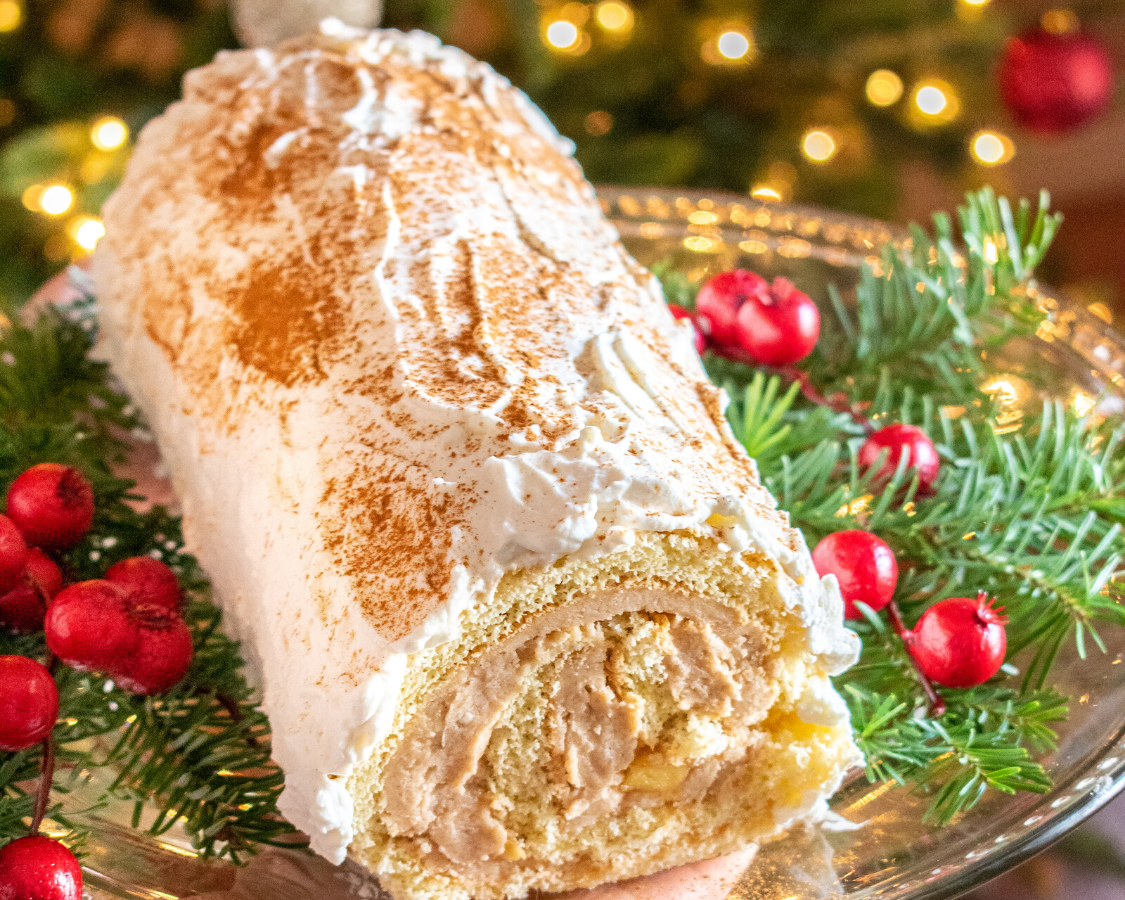 Apple Roll Cake
Tasty vanilla sponge cake filled with cinnamon frosting and cinnamon apples rolled up to a bundle of perfection and covered in delicious whipped cream. This cake by Wonder and Charm is sure to make an impression.
Prep Time:30 minutes
Total Time:2 hrs and 45 minutes
Ingredients:
Sponge Cake:
1 cup Cake Flour
1 tsp Baking Powder
1/4 tsp Sea Salt
4 Egg Yolks, room temperature
4 Egg Whites, room temperature
3/4 cup Sugar • 2 tbsp Buttermilk
11⁄2 tsp Vanilla Extract
1 cup Powdered Sugar
Cinnamon Frosting:
2 cups Butter, softened
5-6 cup Powdered Sugar
1 cup Brown Sugar
2 tsp Cinnamon
4 tbsp Milk
2 tsp Vanilla Extract
Cinnamon Apple Filling:
1 tsp Cinnamon
4 tbsp Brown Sugar
4 tbsp Butter
Whipped Cream:
2/3 cup Heavy Cream Chilled
3 tbsp Powdered Sugar
1/2 tsp Vanilla Extract
Method
Sponge Cake:
Brush a generous amount of melted butter onto a baking sheet then place parchment paper on top of that then add more melted butter over the parchment paper; set aside.
Preheat oven to 350°F.
In a small bowl sift together the cake flour, baking powder, and sea salt; set aside.
Using an electric mixer beat the egg whites and 1/4 cup of sugar on high speed until stiff peaks form. This should take about 5 minutes. Scoop the egg white mixture into another bowl and set aside until they are ready to be used.
Using the same bowl that the egg whites were in beat together the egg yolks, remaining sugar, buttermilk, and vanilla extract for about 3-4 minutes until it turns pale yellow.
Fold in half of the egg white mixture until everything is combined. Then add the remaining egg white mixture. Be sure not to over mix.
At low speed add the flour mixture and mix just until everything is combined. DO NOT OVERMIX.
Spread evenly onto the prepared baking sheet. Bake for 15 minutes.
While the cake is baking place a clean towel on a flat surface and sprinkle on a generous amount of powdered sugar onto the towel. Set aside until the cake is ready to be flipped onto it.
As soon as the cake is done let it sit for 2-3 minutes. Sprinkle a generous amount of powdered sugar over the cake and flip it onto the towel. Carefully peel off the parchment paper then slowly and carefully roll the cake up with the towel. Place the cake in the refrigerator for 2 hours.
Cinnamon Apple Filling:
Dice up the apples. In a small saucepan over medium-low heat slightly melt the butter then add the brown sugar, and cinnamon. Stir until the sugar has dissolved. Stir in the diced apples until completely coated. Let the mixture simmer on low heat for 10 minutes. Stir occasionally. Take off the heat and let them cool.
Cinnamon Frosting
Using an electric mixer cream together the butter, brown sugar, cinnamon, and vanilla extract until everything is fluffy. Then add1/2 cup of powdered sugar at a time and the milk 1 Tablespoon at a time until it reaches your desired consistency.
Take the cake out of the refrigerator and let it sit at room temperature for 10-15 minutes. Slowly unroll the cake and spread the frosting evenly over the top of the cake. Then add the apple filling evenly over the frosting. Slowly roll the cake back up without the towel. Make sure to roll it tightly. If the frosting gushes out that is okay. Cover with plastic wrap and let it sit in the refrigerator for 20-30 minutes.
Whipped Cream:
In a bowl whip together the cold heavy cream, powdered sugar, and vanilla extract on high speed until peaks start to form.
Spread over the cake with an offset spatula making sure not to cover up the swirls of the cake. Sprinkle some cinnamon over the top or any other decorations. Then cut yourself a slice and enjoy.