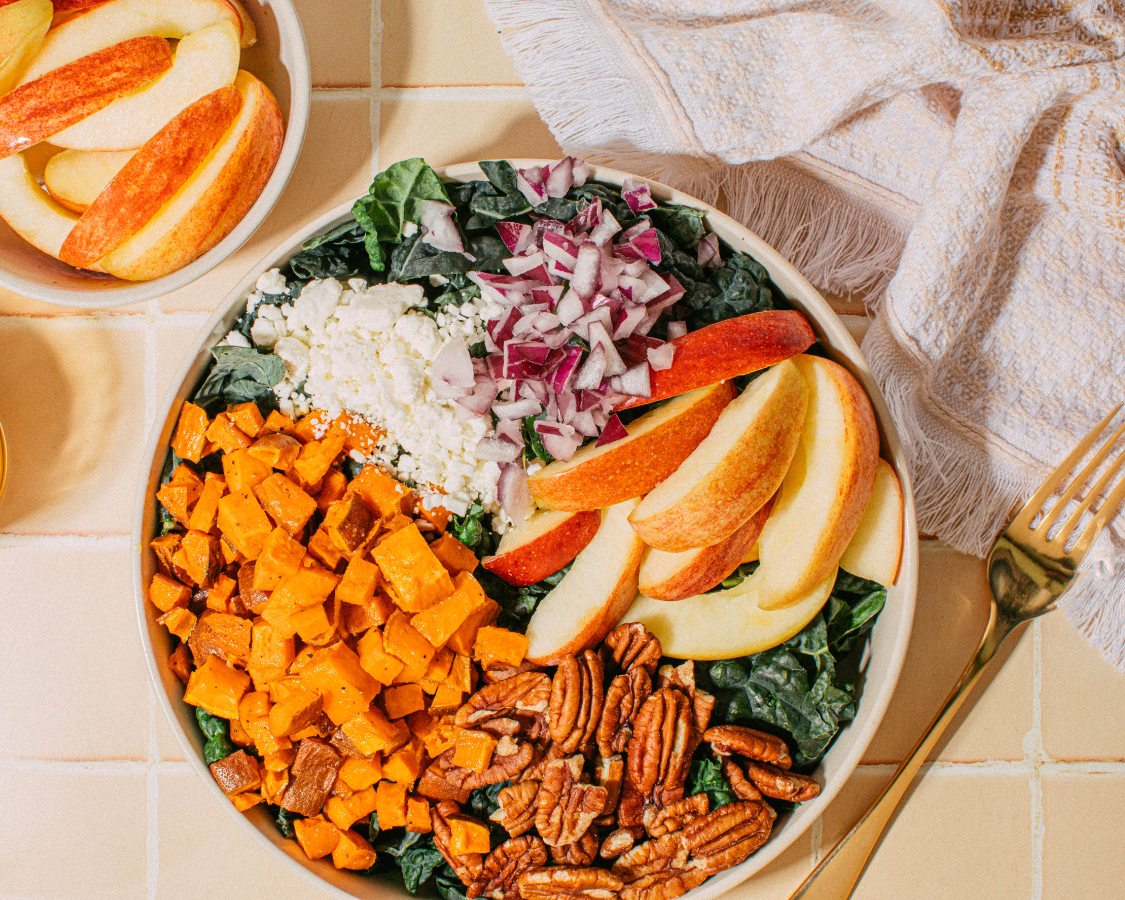 Homemade Harvest Bowl Salad
The Harvest Bowl is taking the salad scene by storm and we're love its hearty and warming ingredients and are excited to share how to make it in the comfort of your own home.
Prep Time:10 minutes
Total Time:30 minutes
Yields:4
Ingredients:
Salad:
2 large sweet potatoes peeled and cubed
3-4 sprigs of fresh thyme
1 tablespoon extra-virgin olive oil
salt and pepper, to taste
6 cups stemless curly kale, roughly chopped
1 teaspoon Kosher salt
½ red onion, chopped
1 bag Crunch Pak Sweet Apple Slices
⅔ cup pecans
⅔ cup crumbled goat cheese
Dressing:
1 garlic clove minced
Juice from ½ of a lemon
¼ cup apple cider vinegar
1 teaspoon mustard
1 Tablespoon honey
½ cup olive oil
salt and pepper to taste
Method
Preheat oven to 450 degrees F. To a large sheet pan, add sweet potatoes with olive oil, thyme, salt and pepper. Mix until combined. Roast for 20-25 minutes. Remove from heat and set aside to cool until ready to assemble the salad.
While the potatoes are in the oven, add kale and a teaspoon of kosher salt to a mixing bowl and massage the kale for 10-15 seconds to soften it.
Make the dressing by adding garlic, lemon, vinegar, mustard, honey, olive oil and salt and pepper to a bowl and whisking until combined.
Add onions, apple, pecans, goat cheese and roasted sweet potatoes to the kale and drizzle dressing on top. Enjoy!
Homemade Harvest Bowl Salad