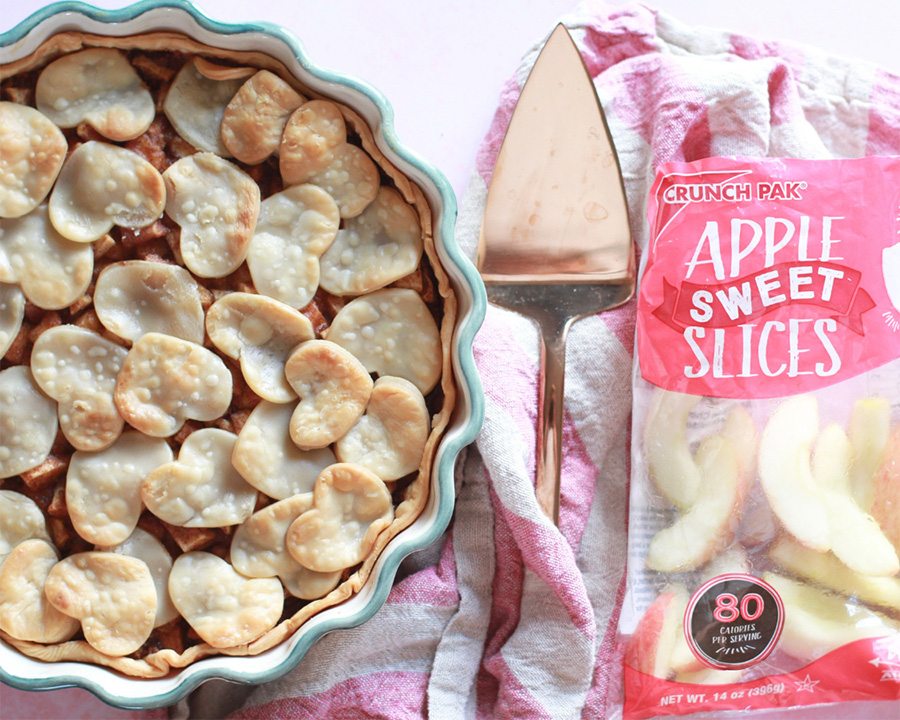 Ingredients:
Homemade Pie Dough
2 ½ cups flour
1 tablespoon sugar
1 teaspoon table salt
2 sticks unsalted butter, cold
Apple Pie
1 pack Crunch Pak Sweet Apple Slices or Mixed Apples Slices
1 tablespoon lemon juice and 1 teaspoon of zest
¾ cups sugar plus 1 tablespoon
2 tablespoons flour
¼ teaspoon salt
1 teaspoon cinnamon
¼ teaspoon ground nutmeg
¼ teaspoon ground allspice
1 egg white
Method
Homemade Pie Dough
In a large mixing bowl, add flour, sugar and salt, combine. Cut 2 sticks of butter into ½" pieces. Add butter to the large bowl, and using your pastry blender, cut the butter into the flour mixture. Continue until you form pea size pieces. Add ½ cup ice water to the mixture and combine with a spatula. Continue to add 1 tablespoon as a time until the dough comes together. Divide the dough in half, wrap with plastic wrap and form into a disk. Refrigerate for at least 2 hours.
OR
If you use 2 store-bought pie crusts, skip step 2 in the next section.
Apple Pie
Preheat oven to 500 degrees. Place a baking sheet in the oven to begin warming.
(Skip if using store-bought dough) Remove pie dough from the refrigerator. Heavily flour your work surface and place pie dough disk in the middle. Begin rolling the disk starting in the middle working your way out. After a few rolls, pick up the dough, add more flour to the surface, and rotate the dough. Continue until the dough is about 12 inches round. Transfer to pie pan and set aside.
Place apple slices in a large bowl. Toss with lemon juice and lemon zest. In a small bowl, mix ¾ cup sugar with flour, salt and spices. Combine this with the sliced apples. Pour apple mixture into the pie plate.
Roll out second dough approximately the same depth as the first. Using a heart shaped cookie cutter, begin cutting out the pie hearts. Starting at the crust begin placing the hearts around the edge pressing firmly on the crust. Gently whisk 1 egg white in a small bowl and brush the entire pie with the egg wash. Sprinkle 1 tablespoon of sugar over the pie.
Place pie on baking sheet and lower oven to 425 degrees. Bake for 25 minutes. Rotate the pie, reduce oven to 375 degrees and continue to bake for another 30 minutes.
Transfer to wire rack and let cool. Serve and enjoy!
Recipe Tip:
The kids can help cut the pie hearts using the heard shaped cookie cutters!