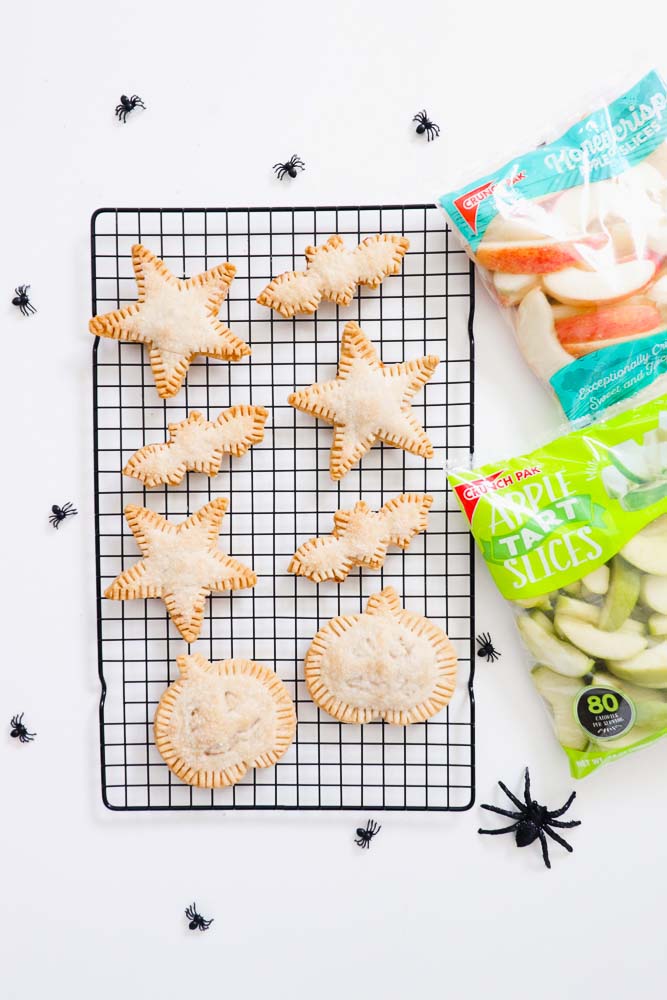 Halloween Apple Hand Pies
Ingredients:
4 store-bought pie crusts Note: (The number of pies depends on the size of your cutters. I used 3 different sizes)
4 cups Crunch Pak Sweet or Tart Apple Slices. Note: you can mix both, 2 of each kind with 1/2 tablespoon lemon juice
1/4 cup water
1/4 cup granulated sugar
2 tablespoons flour
1/4 teaspoon ground cinnamon
1/8 teaspoon nutmeg
Sugar for sprinkling
Method
Pre-heat oven to 400 degrees F
Line two large baking sheets with parchment paper. Set aside.
Lightly flour a flat surface to roll your dough. Use cookie cutter to cut out shapes. Place the cut-out shapes on the baking sheets and transfer to refrigerator to chill.
In a large pot, combine apples, lemon juice, water, sugar, flour, cinnamon and nutmeg in a large mixing bowl until all apples are coated with the mixture.
Bring to a boil on high heat, then turn to low and cover.  Maintain a low simmer for 30 minutes or until the apples are completely soft and cooked through.
Once fully cooked, remove from heat.  For a chunky apple filling, mash the apples in the pot. For a smooth apple filling, add to a food processor or blender and blend until smooth (if using a blender, work in batches and allow time to cool).
Remove cut-out dough from the fridge, distribute the apple filling between half of them. Make sure to leave room on the edges.
Place the other 1/2 on top of the cut-out dough shapes which contains the apple filling. Dampen the edges with water if needed and crimp the edges with a fork. Sprinkle with sugar.
Bake pies for 18-20 minutes.
Recipe Tip:
You can also use our Peeled Apple Slices for this recipe!
Halloween Apple Hand Pies