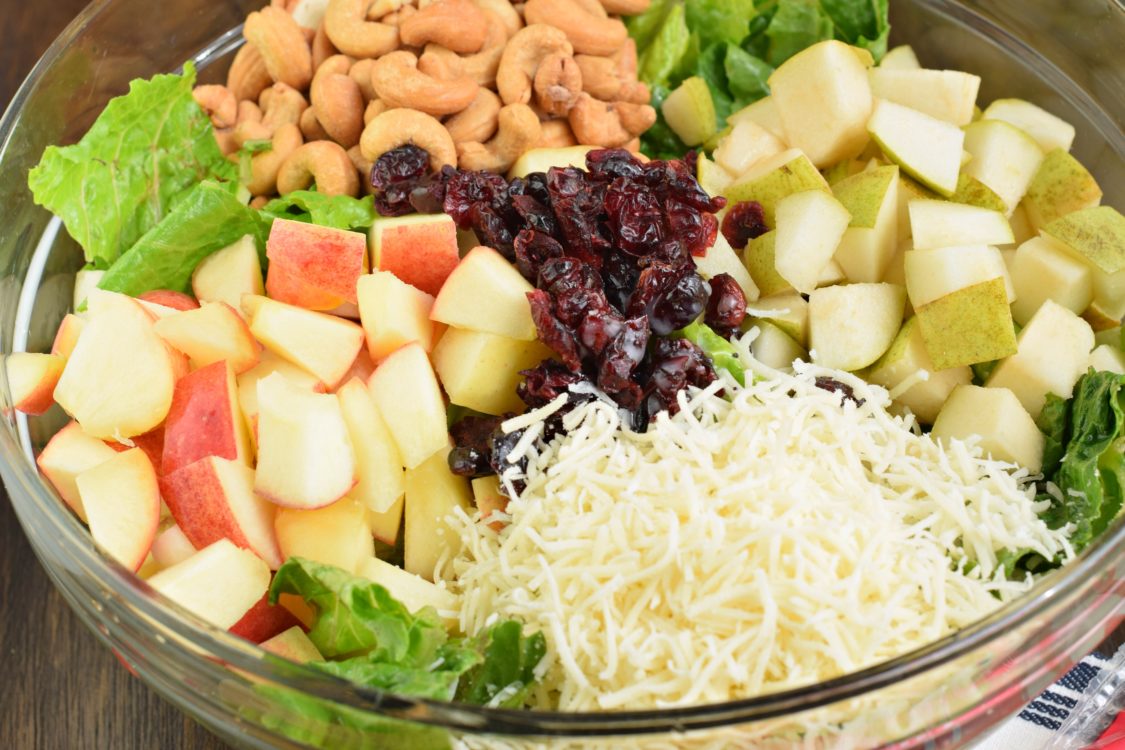 Harvest Salad
Cozy up to this Harvest Salad recipe with it's delicious Lemon Poppy Seed dressing. You'll love the flavors of apples, pears, cashews, and swiss cheese in this hearty salad recipe! Find more recipes like this at Shugary Sweets!
Prep Time:15 MINUTES
Total Time:15 MINUTES
Yields:SERVES 6
Ingredients:
FOR THE DRESSING:
1/2 cup granulated sugar
1/2 cup lemon juice
1/4 small yellow onion
1 tsp dijon mustard
1/2 tsp kosher salt
2/3 cup canola oil
1 Tbsp poppy seeds
FOR THE SALAD:
1 large head romaine lettuce, torn
6 oz Crunch Pak apple slices, diced
1 pear, diced
4 oz shredded swiss cheese
1 cup lightly salted cashews
1/4 cup dried cranberries
Method
In a magic bullet or small blender (or food processor), combine the sugar, lemon juice, onion, mustard, and salt. Process until smooth. Add in oil and poppy seeds. Blend until creamy. Refrigerate dressing until ready to serve.
In a large salad bowl, add torn pieces of fresh Romaine lettuce. Top with apples, pear, cheese, cashews, and dried cranberries.
When ready to serve, toss with fresh lemon poppy seed dressing and enjoy!