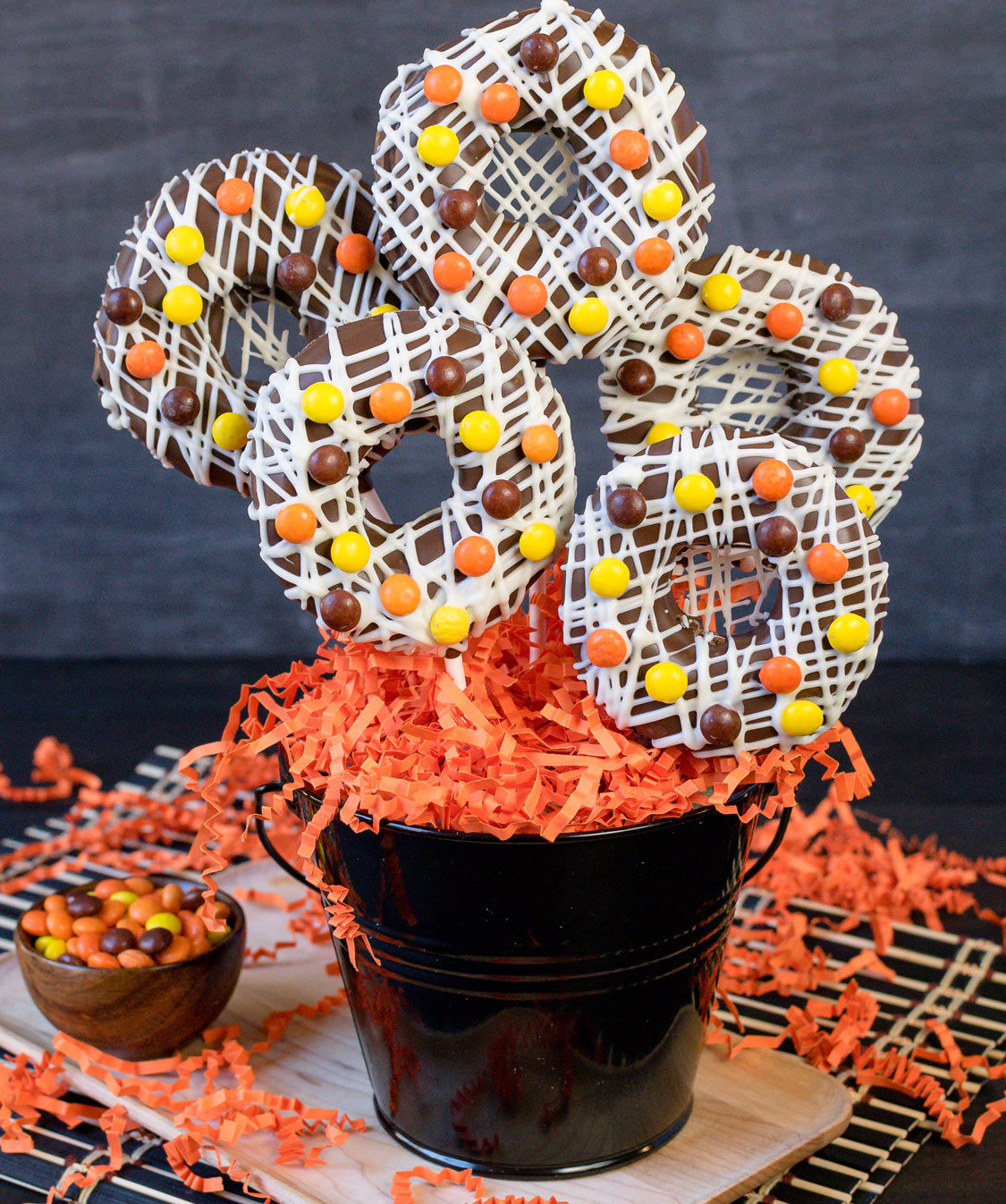 Chocolate Covered Peanut Butter Apple Rings
Prep Time:5 minutes
Total Time:30 minutes
Yields:12 Apple Rings
Ingredients:
1 bag Crunch Pak Apple Rings
12 cookie sticks or wooden skewers
3 Tablespoons butter, softened
1/4 cup creamy peanut butter
2 Tablespoons marshmallow cream
1/4 teaspoon vanilla
pinch of salt
1 cup powdered sugar
1 – 10 ounce bag dark chocolate melts
3/4 cup white chocolate melts
1/2 cup mini Reese's Pieces
Method
Open the bag of apples. Use a knife to cut a small hole in the bottom of each ring. Press a cookie stick into the bottom without going through the center hole. Place the apple rings on a layer of paper towels. Spread more paper towels on top of the apples.
Beat together the butter, peanut butter, marshmallow, vanilla, and salt until creamy. Slowly beat in the powdered sugar.
Divide the mixture into 12 even balls. Roll each ball into a small rope. Press the rope around the top of the apple rings and press it out to fit evenly.
Melt the dark chocolate according to the package directions. Dip each apple ring into the chocolate and use a spoon to cover the tops. Tap the stick gently on the side of the bowl to remove the excess chocolate. Place on a parchment lined tray to set up.
Melt the white chocolate according to the package directions. Spoon into a small plastic Ziplock bag and cut one corner off. Drizzle over the tops of the apple rings. Press the Reese's Pieces into the wet chocolate. Let set again. Place on a tray or press the sticks into a pot with styrofoam in it. Serve the same day for best results.
Chocolate Covered Peanut Butter Apple Rings