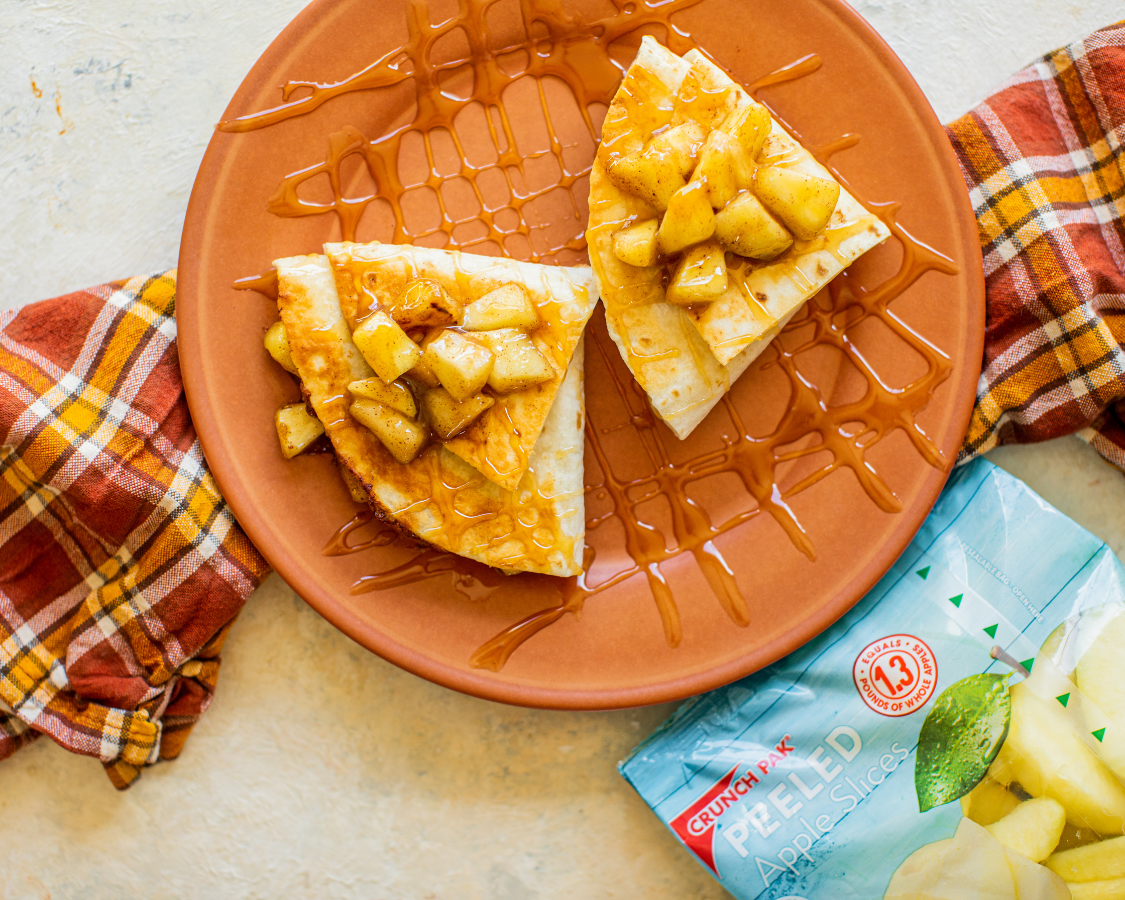 Easy Apple Pie Tortilla
A spin on your favorite seasonal dessert. This Apple Pie Tortilla Hack takes minutes to put together and satisfies your fall cravings.
Prep Time:5
Total Time:15
Yields:3
Ingredients:
1 bag Crunch Pak Peeled Apple Slices
¼ cup water
1 tbsp corn starch
¼ cup maple syrup
2 tsp cinnamon
½ tsp allspice
½ tsp nutmeg
1 tbsp unsalted butter
2 tsp vanilla
3 large tortillas
Method
Dice the apples into small pieces. Set aside.
Mix the water and cornstarch together in a saucepan. Add the maple syrup, spices, and apples. Cook everything for about 5 minutes, until the mixture thickens. Remove from heat, then stir in the butter and vanilla.
Cut a large tortilla in half but only on one side of the round tortilla, drawing the incision toward the center of the circle. Imagine that the tortilla is in four equal quadrants. Then, place your cooked apple pie filling in each of the four sections, but be sure not to overfill.

Carefully lift the side next to the cut and fold over to the next quadrant. Then again, and again until you've got a triangle shaped tortilla.

Place the folded apple pie tortilla into a panini machine or place onto a griddle/frying pan with melted butter to toast it. If you're using a griddle or frying pan, flip the tortilla and toast on both sides. Sprinkle with some cinnamon sugar or powdered sugar and serve warm. Enjoy!
Recipe Tip:
Easily store these in an airtight contain in your freezer for up to two months. Pop into the microwave for about three minutes and enjoy!