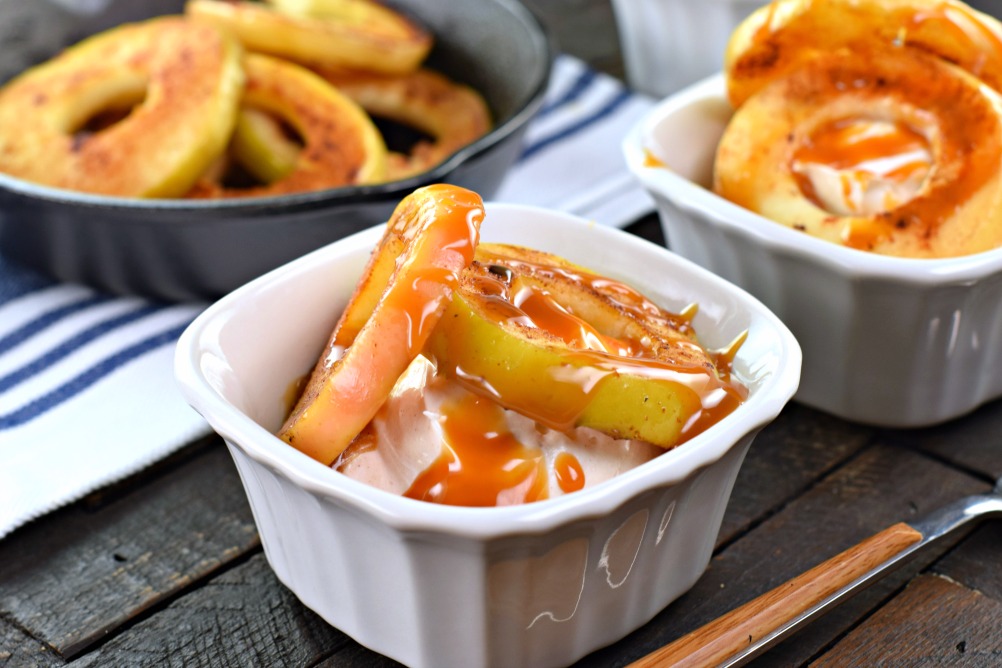 Cinnamon Apple Cheesecake Parfaits
Delicious, no bake dessert recipe, these Cinnamon Apple Cheesecake Parfaits are the perfect creation for serving a group!
Prep Time:15 MIN
Total Time:20 MIN
Yields:6-8 Servings
Ingredients:
1 Tbsp unsalted butter
1 package (12 oz) Crunch Pak Apple Rings
2 tsp cinnamon, divided
1 package (8 oz) cream cheese, softened
1 1/2 cups powdered sugar
1 tsp vanilla extract
4 oz Cool Whip, thawed
1/2 cup caramel sauce, for garnish
Method
In a large skillet, melt butter over medium high heat. Once melted, add apple rings and sprinkle with 1 tsp cinnamon. Cook until soft, about 5 minutes, flipping halfway through. Set aside.
In a mixing bowl, beat the cream cheese, powdered sugar, 1 tsp cinnamon, and vanilla extract. Beat for about 5 minutes, until fluffy. Fold in Cool Whip.
Spoon cheesecake filling into individual parfait cups, mugs, ramekins, or bowls. Top with apple rings. You can serve immediately, or refrigerate for more depth of flavor! Drizzle with caramel sauce when ready to serve! ENJOY!
Cinnamon Apple Cheesecake Parfaits