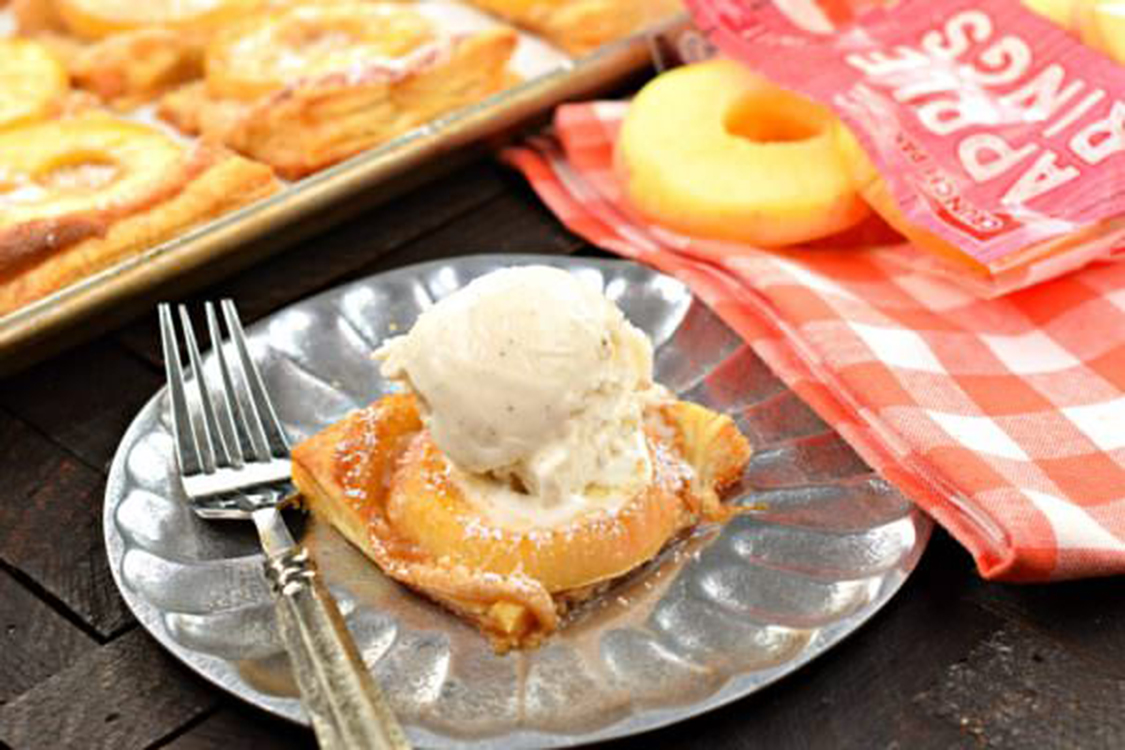 Apple Ring Cream Cheese Tart
This Apple Cream Cheese Tart highlights the flavors of the holidays with an enticing combination of apples, nutmeg, and rum extract! Impressive to look at, easy to make!
Prep Time:15 min
Total Time:90 min
Yields:9 large Tarts
Ingredients:
1 sheet puff pastry, thawed
4 oz cream cheese, softened
1/2 cup light brown sugar, packed, divided
1 tsp rum extract
1/4 tsp nutmeg
9 Crunch Pak Apple Rings
1/4 cup unsalted butter, melted
powdered sugar, for garnish
Method
Preheat oven to 400°F.
Unfold thawed puff pastry on a silpat or parchment paper lined baking sheet (make sure the baking sheet has sides). Cut the puff pastry into 9 equal sized pieces. Separate slightly on the baking sheet.
In a mixing bowl, beat together the cream cheese, 1/4 cup of the brown sugar, rum extract, and nutmeg until smooth. Spread about 1-2 Tbsp onto each piece of puff pastry. Place one apple ring onto each piece.
In a small bowl, whisk together the remaining 1/4 cup brown sugar with melted butter. Drizzle over the apple rings. Bake for 20-22 minutes until golden brown. Allow to cool about 5 minutes on pan, then transfer each piece to a serving plate. Sprinkle with powdered sugar and enjoy!
Recipe Tip:
You'll need to let your frozen puff pastry thaw for about 40 minutes on the counter.
Using Crunch Pak Apple Rings is an easy, convenient step in making these tarts. Any variety works, choosing from their sweet and crunchy, sweet and tart, or tart and crunchy!
When baking this tart, make sure you use a baking sheet that has edges! You don't want the melted butter to drip off into your oven.
If you prefer a more GOLDEN color to your tart, beat an egg yolk and brush it onto your tart before baking.
Once these are done cooking, you'll wonder if they are done, as the melted butter and sugar will be all over the pan. Allow them to cool a few minutes, then use a metal spatula and move them from the baking sheet to a serving platter. You'll love that gooey cream cheese center. Don't forget to add the powdered sugar and a scoop of vanilla ice cream. DELISH.
Apple Ring Cream Cheese Tart