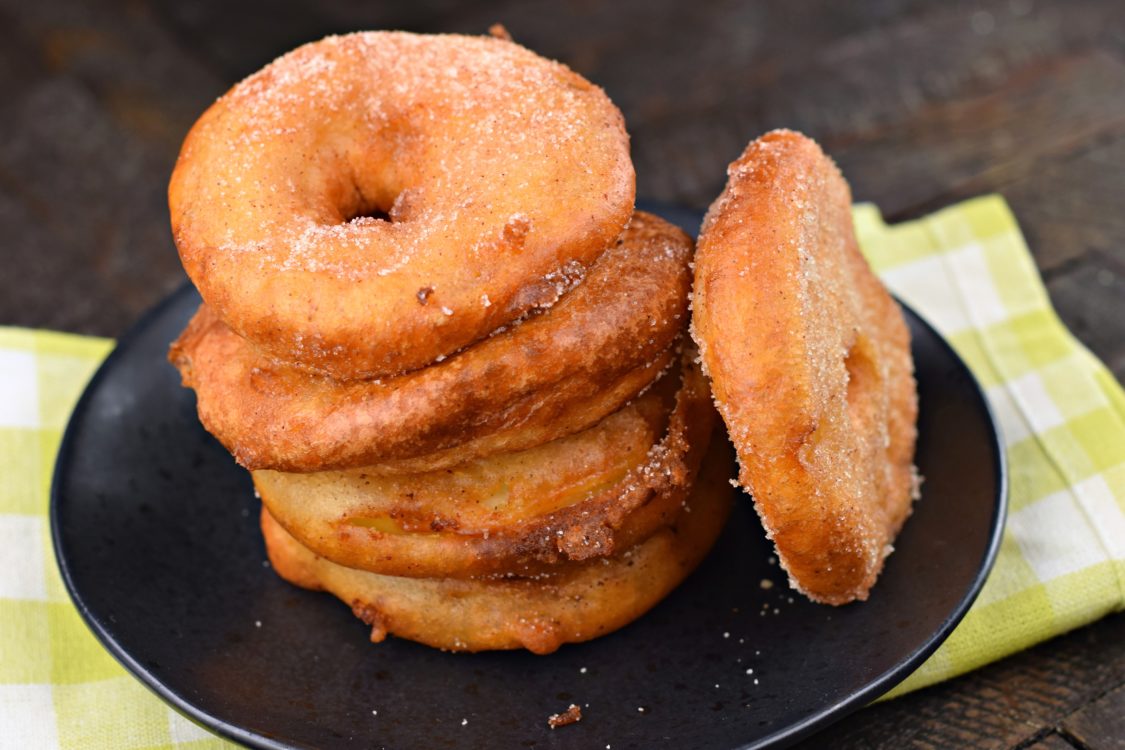 Apple Ring Fritters
Delicious Apple Ring Fritters start with juicy apples and a buttermilk batter before frying to a golden brown! Then coat them in sugar and serve with your favorite caramel or chocolate dippers! Plus, no need for a deep fryer.
Prep Time:15 min
Total Time:30 min
Yields:12 fritters
Ingredients:
1 cup buttermilk
1 large egg
1 cup all-purpose flour
2 Tbsp granulated sugar
1/2 tsp cinnamon
1/4 tsp nutmeg
1 tsp baking powder
1/8 tsp kosher salt
1 package (12 oz) Crunch Pak Apple Rings (approx 12 rings)
1 1/2- 2 cups canola oil (or vegetable oil), for frying
cinnamon sugar mix
powdered sugar
melted chocolate (I use hot fudge sauce)
melted caramel (I use caramel ice cream topping)
Method
In a medium sized stainless steel skillet, or cast iron skillet, add canola oil. Heat over medium heat until temperature reaches about 375°F.
While oil is heating, combine milk and egg in a small bowl. Whisk in the flour, sugar, cinnamon, nutmeg, baking powder, and salt until smooth.
Once oil is hot, dredge each apple ring in the batter until completely coated, and place gently in the batter. Fry a few at a time until golden brown, flipping to make sure both sides get cooked evenly. Using tongs to remove from oil, place on a paper towel lined plate while doing the remaining apple rings. Sprinkle with cinnamon sugar mix immediately!
Once done, add powdered sugar (if desired) and serve with caramel and chocolate sauces (if desired). ENJOY!