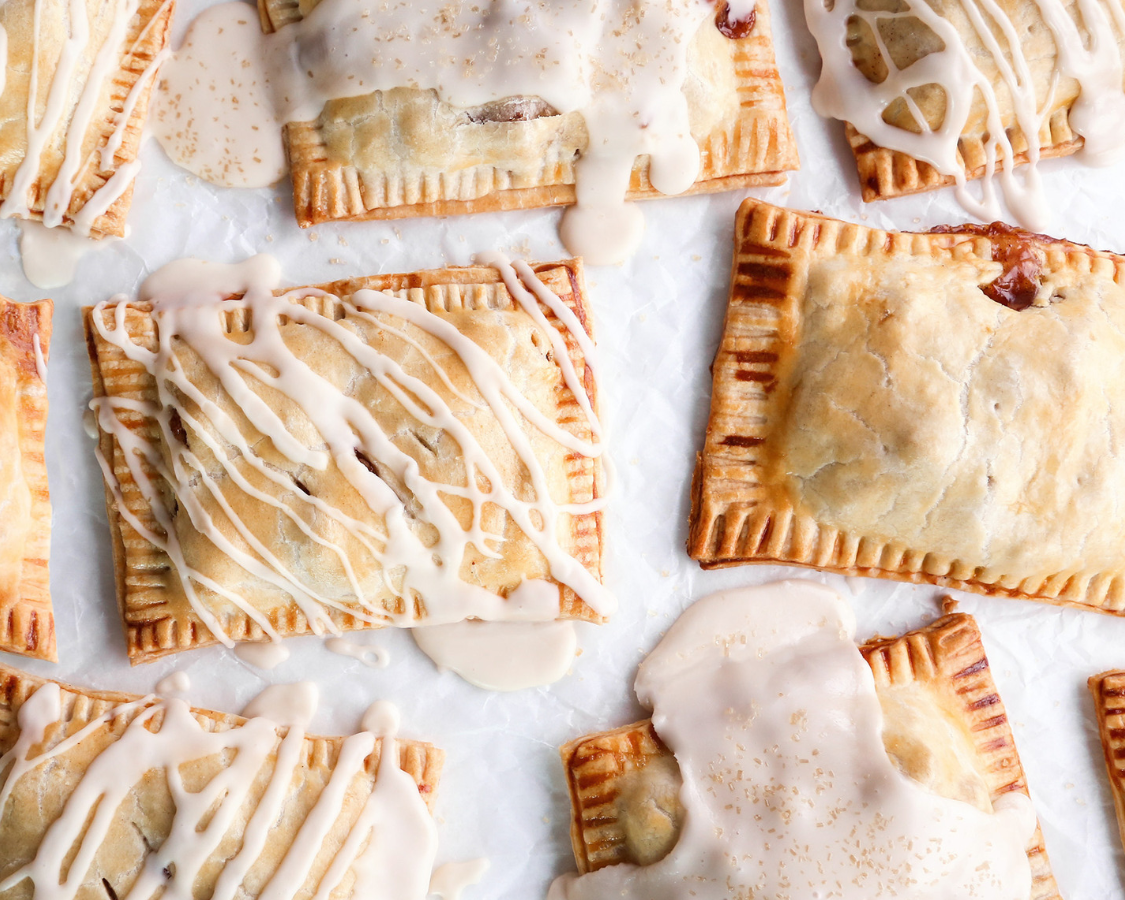 Apple Pop Tarts
Put a refreshing homemade twist on your kid's favorite treats. These Apple Pop Tarts by Wife Mama Foodies are easy to make and simply delicious!
Prep Time:10 Min
Total Time:35 Min
Yields:6-8 Pop Tarts
Ingredients:
3 cups chopped apples (from one or two 12 oz. packages Crunch Pak Organic Apple Slices)
1/3 cup coconut sugar, brown sugar, or pure cane sugar
1 teaspoon lemon juice + 1/2 teaspoon lemon zest, optional
1 teaspoon ground cinnamon
1/4 cup water
1 tablespoon cornstarch
2 refrigerated pie crusts or double pie crust recipe (use gluten-free, if needed)
egg wash, optional
Glaze: (optional)
1 1/2 cups powdered sugar
1 teaspoon vanilla extract
1–2 tablespoons milk of choice
Method
Preheat oven to 375oF. Roughly chop apples into small cubes. Place chopped apples, sugar, and lemon juice/zest into a medium saucepan and cook over medium-high for several minutes, until apples begin to release juices and become tender.
In a small bowl, stir together cornstarch and water. Stir slurry into apple mixture and cook until sauce has thickened. Remove from heat let cool thoroughly.
Place one of the pie crusts on a lightly floured surface and roll into a rectangle/oblong shape. Trim the rounded borders, sparingly, to make a rectangle with four straight edges. Cut rectangle into 6 even squares/rectangles. Each pie crust will yield 3 large pop tarts, but you can make slightly smaller pop tarts and get 8 even sections in each pie crust, giving you 8 instead of 6 pop tarts altogether.
Place a generous spoonful of apple filling into the center of three of the cut pieces of pie dough, brush the edges with water or egg wash, then place the other halves over the side with the pie filling and press the edges together. Use the back of a fork to crimp the edges of each pop tart. Repeat with the second pie crust.
Place all of the prepared pop tarts onto a baking sheet lined with parchment paper. Brush with egg wash, then bake in the preheated oven for 20–25 minutes, or until crust is golden brown. Let pop tarts cool completely before drizzling with glaze.
To make glaze: combine powdered sugar, vanilla, and 1–2 tablespoons of milk into a small mixing bowl, whisking until glaze is smooth. Add additional milk, if needed to get the right consistency.
Drizzle glaze over pop tarts and serve.