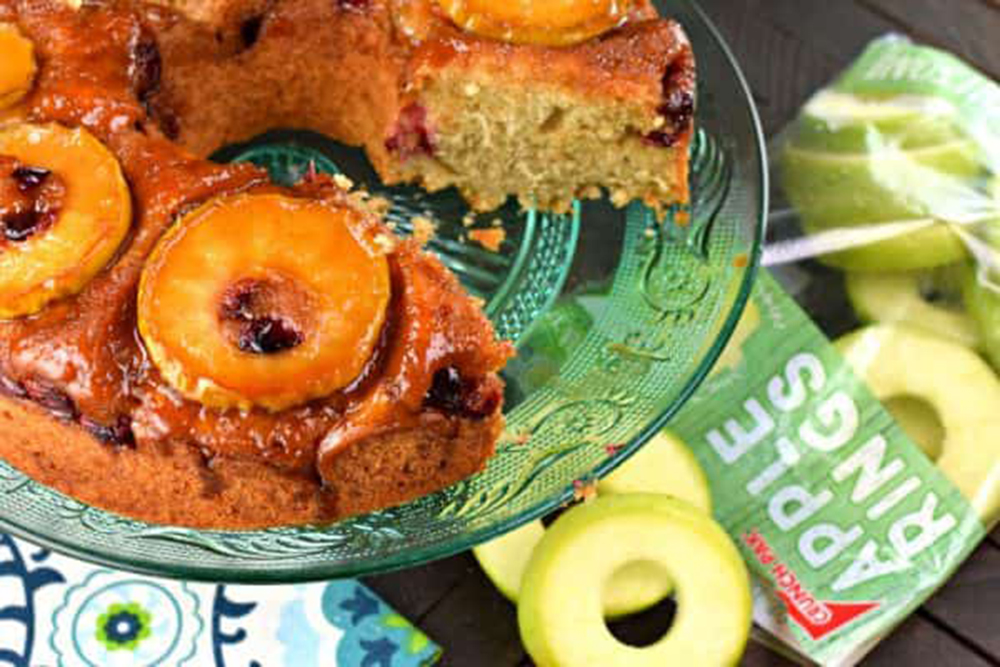 Apple Cranberry Upside Down Bundt Cake
Prep Time:20 Min
Total Time:50-55 Min
Yields:16 Servings
Ingredients:
FOR THE TOPPING:
1/2 cup unsalted butter, melted
1/2 cup light brown sugar, packed
1/2 tsp cinnamon
7-10 Crunch Pak Apple Rings
1/2 cup fresh or frozen cranberries
FOR THE CAKE:
2 1/2 cups all-purpose flour
1 cup granulated sugar
1 tsp baking powder
1 tsp baking soda
1/2 tsp kosher salt
3/4 cup unsalted butter, softened
3 large eggs
2 tsp vanilla extract
1 tsp cinnamon
3/4 cup milk
Method
For the cake, grease and flour bundt pan (or use a generous amount of baking spray). Set aside. Preheat oven to 350°F.
In a small bowl, combine melted butter, brown sugar, and cinnamon for the topping. Line a layer of apple rings in the bottom of the prepared bundt pan. Sprinkle with cranberries. Pour brown sugar mixture over fruit and set aside.
In a large mixing bowl, combine flour, sugar, baking powder, baking soda and salt. Add in softened butter and beat until crumbly. Beat in eggs, vanilla, cinnamon and milk. Beat for 3-4 minutes until smooth and fluffy.
Pour cake mixture into prepared bundt pan. Bake for 50-55 minutes until browned. Allow to cool in pan for about 10 minutes, then flip onto a cake plate and cool completely.
Slice and enjoy! Store at room temperature, covered, for freshness.
Apple Cranberry Upside Down Bundt Cake