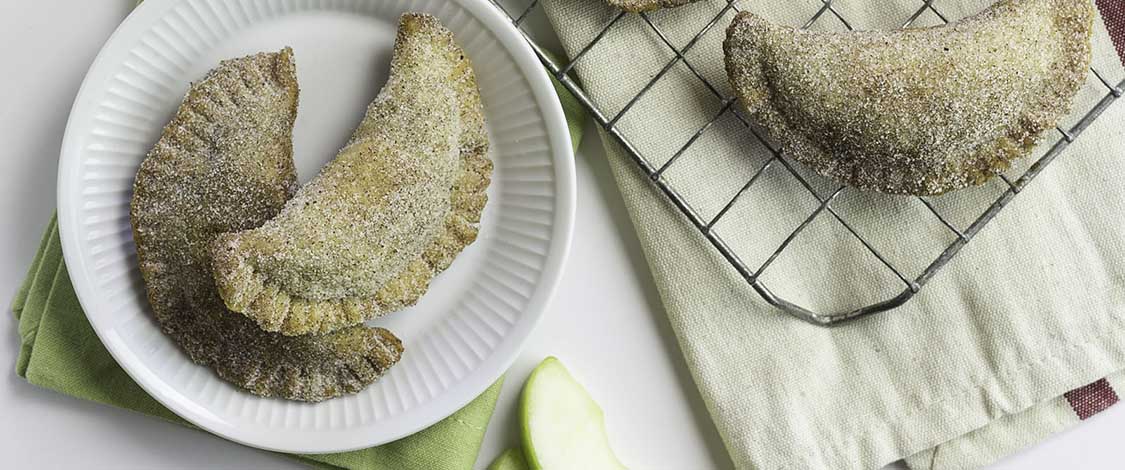 Apple Cheesecake Empanadas
Prep Time:1 hour
Yields:6 servings
Ingredients:
2 cups Crunch Pak sweet and tart apples, chopped small
1 (14 oz.) pkg. ready-made pie crusts, cut out into 4 inch rounds
1 (8oz.) pkg. cream cheese, softened
1 cup sugar, divided
3 Tbsp. brown sugar
1 Tbsp. butter
3 tsp. pumpkin pie spice, divided
1 tsp. vanilla
Oil for frying
Paper towels
Method
Blend cream cheese, 1/2 cup sugar and vanilla in a medium bowl until fluffy; set aside in the freezer.
In a medium skillet add butter, apples, and 1 tsp. pumpkin pie spice. Cook for 10 minutes on medium high heat until apples are tender.
Add 2 inches of canola oil to a large skillet until it reaches 350 degrees. Mix 1/2 cup sugar and 2 tsp. remaining pumpkin pie spice in a small bowl; set aside.
Add 1 tsp. cream cheese filling and cooked apples to the center of each pie crust round. Fold in half and crimp with fork. Fry on both sides until crispy. Drain on a paper towels then roll in sugar mixture.
Apple Cheesecake Empanadas