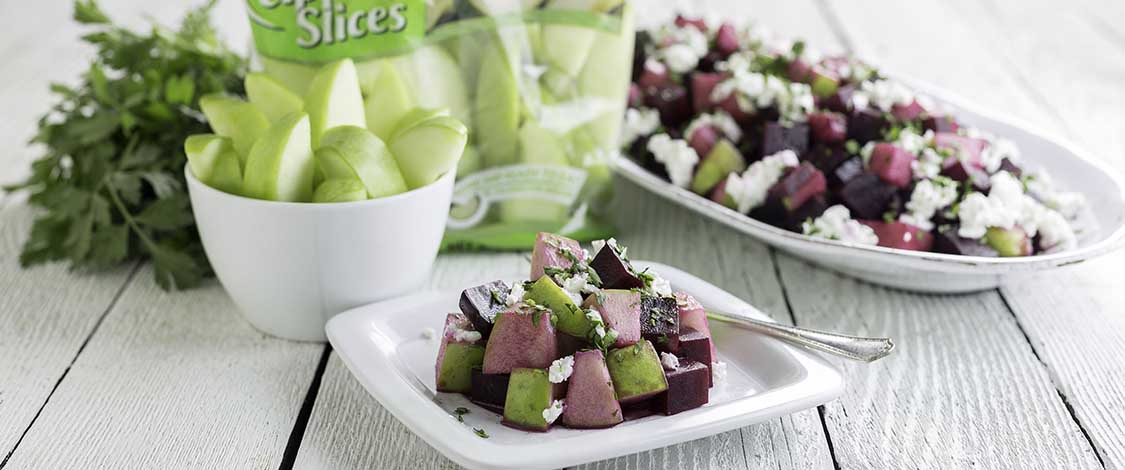 Apple and Roasted Beet Salad with Goat Cheese
Prep Time:30 min
Total Time:30 min
Yields:4 servings
Ingredients:
Salad
2 cups Crunch Pak tart apple slices, chopped
3-4 large beets, roasted and diced
1 log (4 oz.) soft goat cheese
Dijon Vinaigrette
1/4 cup apple cider vinegar
2 tbsp. olive oil
1 tbsp. Dijon mustard
1 tbsp. honey
1/4 cup fresh parsley, finely chopped
Salt
Pepper
Method
In a medium bowl whisk vinegar, mustard, honey until combined. Add olive oil and whisk for one minute. Season with salt and pepper and add fresh parsley.
Add diced apples and beets to vinaigrette; mix until coated. Crumble goat cheese on top and serve.
Apple and Roasted Beet Salad with Goat Cheese