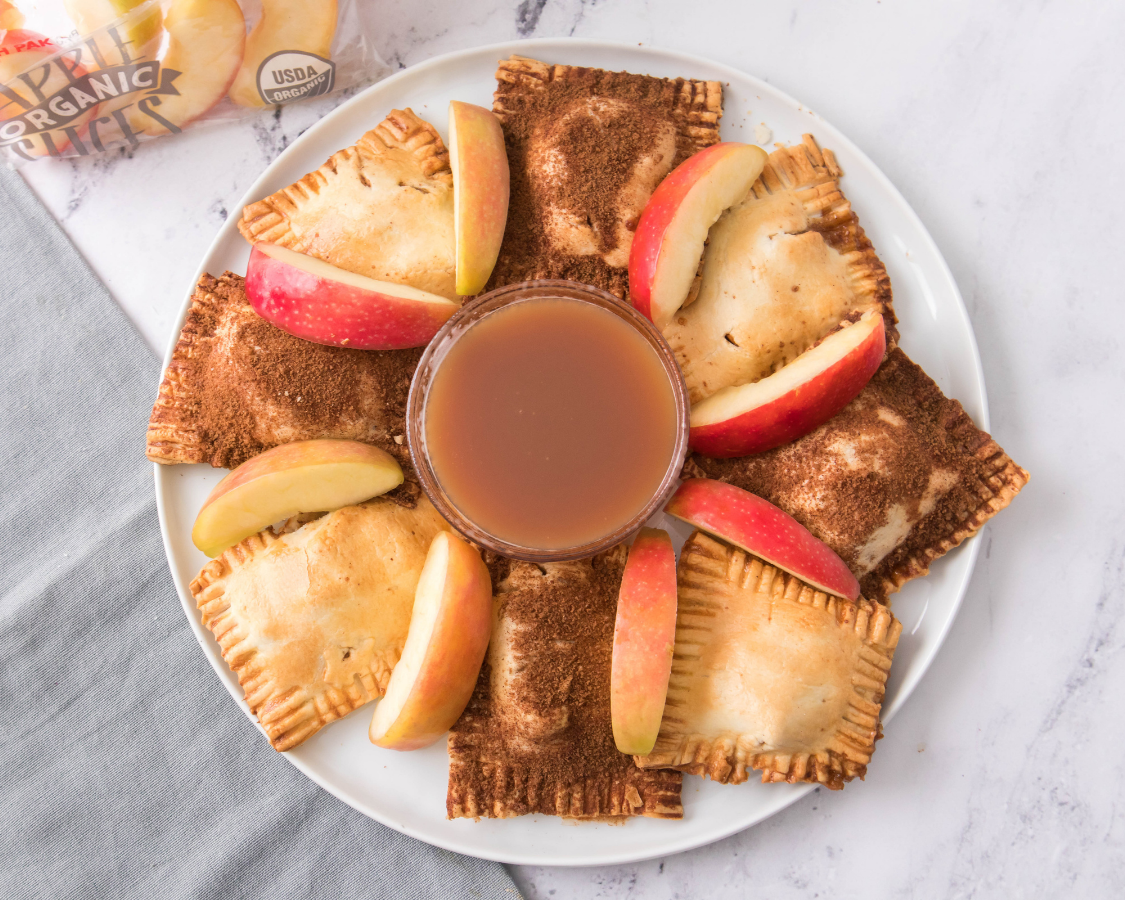 Air Fryer Apple Hand Pies
Looking for a sweet treat that is contains simple ingredients and made in just a few minutes? These Apple Hand Pies by The Produce Moms are made in the Air Fryer. However, if you don't have an air fryer, we show you how to make these Apple Hand Pies Recipe in the oven as well.
Prep Time:10
Total Time:20
Yields:10 servings
Ingredients:
2 bags of Crunch Pak Sweet Apple Slices
3 tbsp brown sugar
1 tsp cinnamon
1 1/2 tsp corn starch
2 pre-made refrigerated pie crusts
egg wash
Method
Start by chopping your Crunch Pak apple slices. Once the two bags of apples slices have been cut, add them to a medium sized bowl.

Next, add in your brown sugar, cinnamon and corn starch.

Mix the ingredients together until the apples have fully absorbed the dry ingredients.

Next, lay out your refrigerated pie dough. Lay down 1 tsp of the apples on the pie dough, leaving enough space for edges for each hand pie. Place the second pie dough over the top of the apples.

Using a pizza cutter slice each hand pie, be sure to leave enough room so that you can seal the hand pie in the next step.

Press the dough down with your fingers to seal before I use a fork around the edges. This ensures that the juices will remain in the hand pie and won't leak out. Once you've secured the pie dough, use a fork and go around the edges to completely seal the hand pie.

Air Fryer Method: With your Air Fryer set the temperature to 350 degrees and cook the apple hand pie for 8-10 minutes. Make sure that you pregrease the basket so that the pie dough doesn't stick prior to placing in the basket. Allow to cool for 5-10 minutes before serving.

Oven method: Pre-heat your oven to 375 degrees. Create your hand pies per the directions. Instead of placing the apple hand pies in the air fryer basket, place parchment paper on a baking sheet. Bake the hand pies at 25-35 minutes, until golden brown.
Air Fryer Apple Hand Pies