This Slow Cooker Apple Cake is as easy as tossing a few ingredients into your crockpot and letting it do it's thing! Top it with a big scoop of ice cream and serve warm!
Up until now, I had never made a dessert in my slow cooker. Ever. And now suddenly, I want to slow cook ALL THE THINGS.
Honestly, I had never seen the point. I mean, what's the difference between putting your ingredients in a skillet or a cake pan vs. putting them in the slow cooker?
Well. Really? There isn't one. You can totally do that too. However, I love my crockpot. I use it all the time to make dinner, so why not occasionally come home to the sweet smell of apples and cinnamon? Plus, the apples caramelize into a gooey delicious layer on the bottom! This is going to come in handy in the summer when it's too hot to run the oven, but I want to eat a delicious comforting dessert. I mean, we love Apple Pie in America, yet who wants to bake that on a hot summer day?
Why not whip up one of these Slow Cooker Apple Cakes instead? And be sure to top it with a big scoop of ice cream too!
A few tips about making today's Slow Cooker Apple Cake recipe:
Start with Crunch Pak sliced apples. It's no surprise that I'm once again using myf avorite sliced apples in a recipe. I love the convenience of them, and my kids love putting them in their lunches too! Plus, you can get them not only sliced, but PEELED too! Perfect for today's recipe!
Layer your ingredients in the crockpot, the apples, brown sugar and cinnamon on the bottom. Then top it with a box of yellow cake mix. Pour your butter over the top…DO NOT STIR.
Cover your crockpot and cook on low for 6 hours (or high for 2 1/2-3 hours). Do not open during the cook time, as this releases the necessary moisture to keep this cake moist and perfect.
Serve the cake warm with a big scoop of ice cream or homemade whipped cream!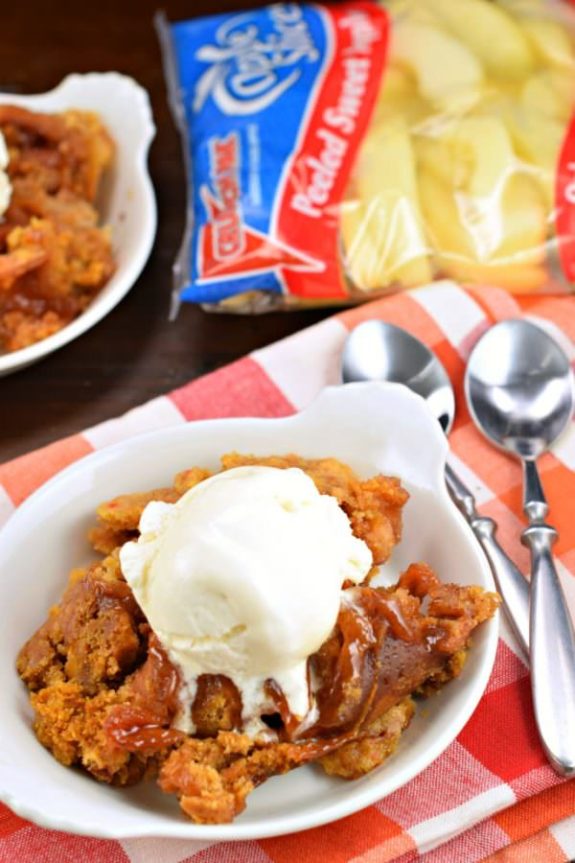 Ingredients:
1 package (12 oz) Crunch Pak sliced, peeled apples (about 2-3 cups)
1/2 cup light brown sugar, packed
1 tsp cinnamon
1 box yellow cake mix
1/2 cup unsalted butter, melted
vanilla ice cream, option, for topping
Directions:
Lay sliced apple in bottom of crockpot. Add brown sugar and cinnamon and stir until apple are coated evenly.
Sprinkle cake mix over the top of apples, spreading evenly. Pour melted butter over the top (DO NOT STIR).
Cover the crockpot and cook on high for 2 1/2- 3 hours or low for 6 hours. Serve warm with a scoop of ice cream!
Save
Save
Save