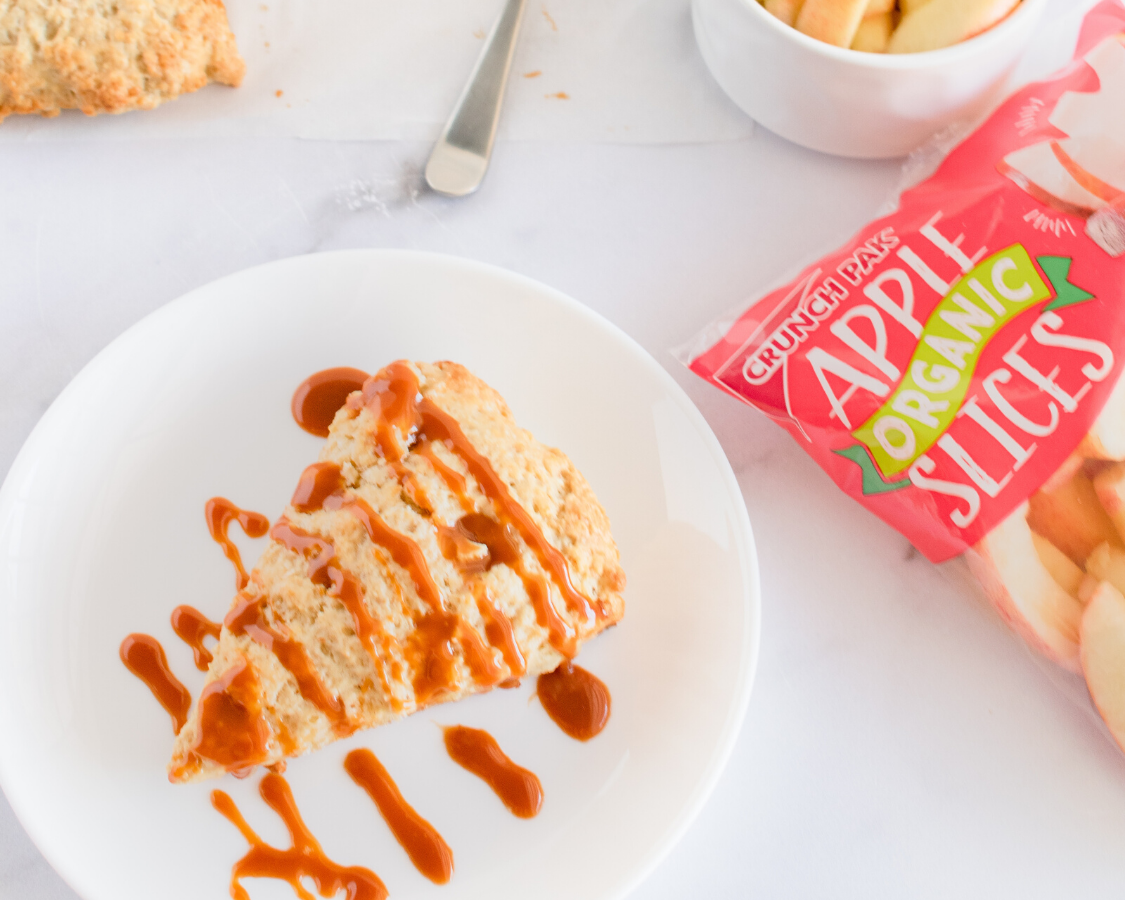 Caramel Apple Scones
Scones are always a delight to have in the house, especially in the Fall! Whip up this Caramel Apple Scones recipe by Wonder and Charm using our Apple Slices!
Total Time:1 hour 30 minutes
Yields:8 Scones
Ingredients:
2 ¾ Cup Pastry Flour
1/3 Cup Sugar
3/4 Tsp Salt
1 Tbsp Baking Powder
1 Tsp Apple Pie Spice
1/2 Cup Cold Butter, Cubed
2/3 Cup Chopped Crunch Pak Apple Slices
2 Eggs
1 Tsp Vanilla Extract
1/2 Cup Applesauce Unsweetened
1/4 Cup Walnuts, Chopped Optional
1 Tbsp Buttermilk
Caramel Sauce
Method
In a large bowl whisk together the flour, sugar, salt, baking powder, and apple pie spice.
Add cubed butter and work together using a pastry cutter.
Be sure not to overmix. It should be crumbly.
With a rubber spatula stir in the apples and walnuts. Set aside
In a separate bowl whisk together the eggs, vanilla, and applesauce.
Add the mixture to the dry ingredients. Stir until combined. Place the dough into a large circle about 1″ thick.
Cut the dough into wedges and place them onto a baking sheet.
Place the scones in the freezer for 30 minutes uncovered.
Preheat the oven to 425° (F)
In a small bowl mix together the buttermilk and a splash of vanilla extract.
Remove the dough from the freezer and with a small pastry brush, brush the tops of the scones with the buttermilk mixture.
Bake for 18- 22 minutes until golden.
Allow to cool for a few minutes. Drizzle the scones with a generous amount of caramel sauce.
Serve warm and enjoy!
Recipe Tip:
Grab a springform cake pan and shape the dough in the pan to make sure the scones are the right size. This will give the dough a nice circular shape. Take it out of the pan and slice into eight triangles.