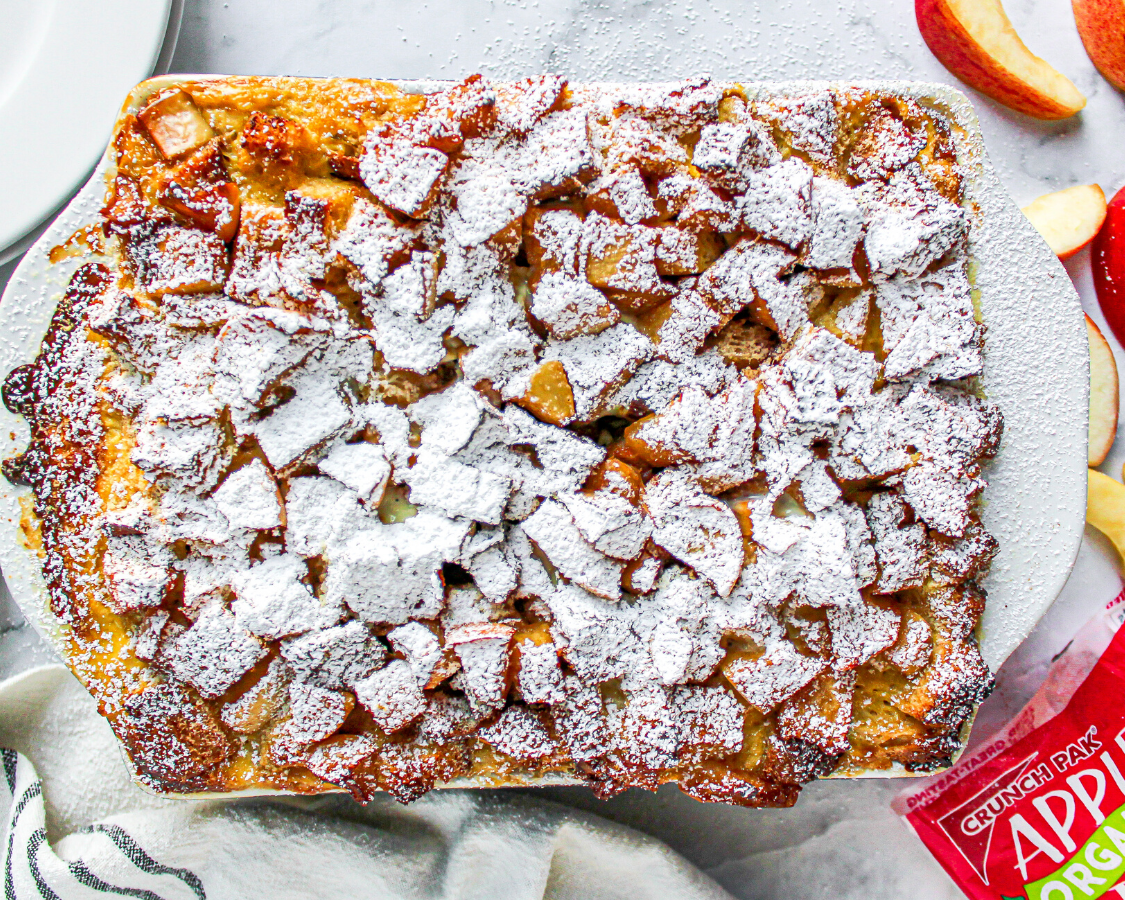 Baked Apple French Toast
The best part of waking up is definitely this Baked Apple French Toast by Girl Meets Kitchen. Perfect for the whole family!
Prep Time:5 minutes
Total Time:30 minutes
Ingredients:
1 loaf brioche or hawaiian bread, cubed
2 12 oz bags of Crunch Pak Organic Apple Slices, cut into 2" pieces
2 cups whole milk
3 tbsp pure vanilla extract
2 tbsp cinnamon
Zest of 1 orange
1/2 cup pure maple syrup, plus more for topping
1 stick butter, cubed and divided
8 eggs
1/2 cup packed brown sugar
1/3 cup water
Method
Add 1/2 stick of butter, diced apples, cinnamon and 1/3 cup of water to a skillet and sauté over medium heat, stirring often on your stovetop for 7-8 minutes. Add the brown sugar to skillet and stir until dissolved, about 1 minute.

Lightly coat a 9×13 baking dish with nonstick spray. Place a layer of bread cubes evenly into the baking dish. Top with the other half of the stick of butter and half the apple mixture in an even layer. Top with remaining bread cubes and remaining apple mixture.

In a large mixing cup, whisk together milk, eggs, maple syrup and the zest of 1 orange. Pour over the bread cube and apple mixture. Cover and refrigerate overnight or for at least 2 hours.

Preheat oven to 350. Remove the dish from the refrigerator for 30 minutes (or at least while your oven heats up!)

Bake slightly covered with tinfoil for 20 minutes, then remove the tinfoil and bake an additional 15 minutes or until golden brown and the center is firm.

Serve immediately and top with powdered sugar and maple syrup!