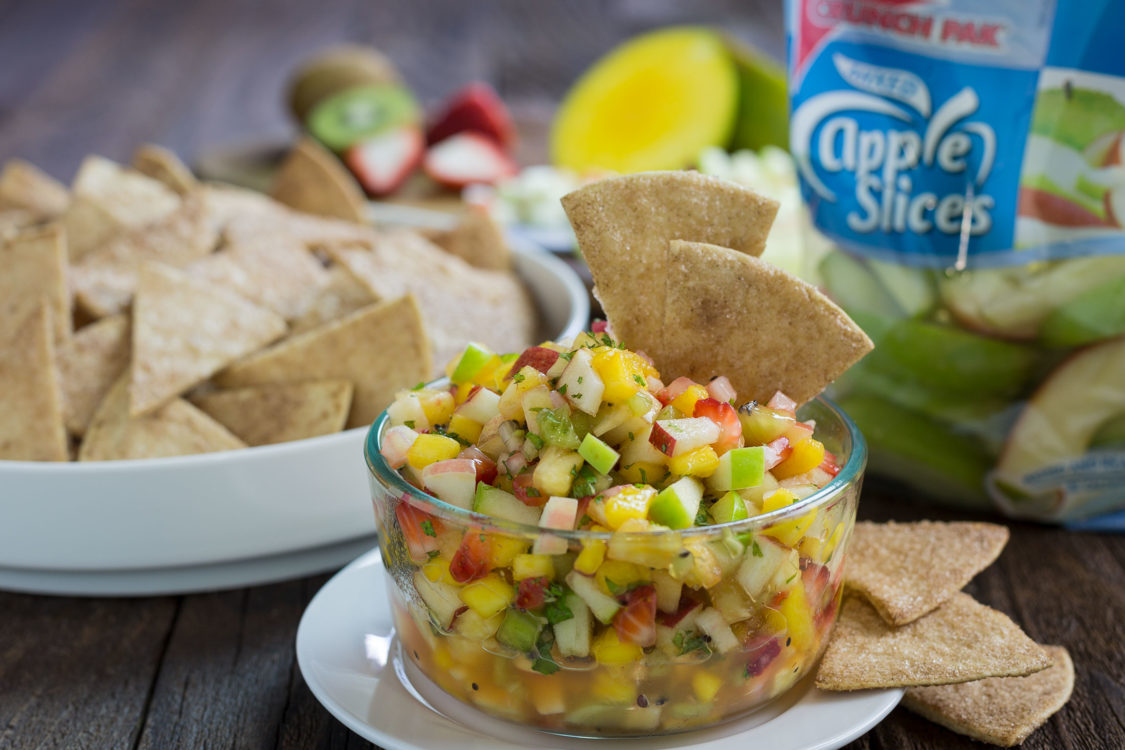 Apple Salsa with Cinnamon Chips
Prep Time:15 Minutes
Total Time:30 Minutes
Yields:10 Servings
Calories:312
Ingredients:
For the salsa:
1 cup Crunch Pak apple slices, diced small
1 cup strawberries, diced small
3 kiwi fruits, diced small
1 cup mango, diced small
1 cup pineapple, diced small
2 tablespoons fresh mint, minced
juice of one lemon
juice of one lime
2 teaspoons sugar
pinch salt
For the chips:
12 medium flour tortillas
⅓ cup unsalted butter
½ cup sugar
1½ teaspoons ground cinnamon
Method
For the salsa:
Add all chopped fruit to a medium bowl. Pour both juices over the fruit. Sprinkle with sugar and salt.
Toss lightly to fully combine. Add mint and lightly toss just to combine. Refrigerate until ready to serve. Toss lightly before serving.
For the chips:
Preheat oven to 350˚F. Line baking sheets with parchment paper.
Melt butter and brush both sides of each of the tortillas with melted butter. Cut each tortilla into 8 equal wedges.
In a small bowl, combine the sugar and cinnamon.
Divide the tortillas wedges and the cinnamon sugar evenly between two large freezer bags. Seal the top of the bags with some air inside. Use the bags to shake the tortillas and coat fully with cinnamon sugar.
Transfer the coated tortilla wedges to the lined baking sheets, leaving a small amount of space between each.
Bake for 6 minutes. Rotate the trays and turn the chips over. Cook for another 6-9 minutes, or until the chips are dry and lightly browned. Cool before serving. Store in an airtight container.
Apple Salsa with Cinnamon Chips