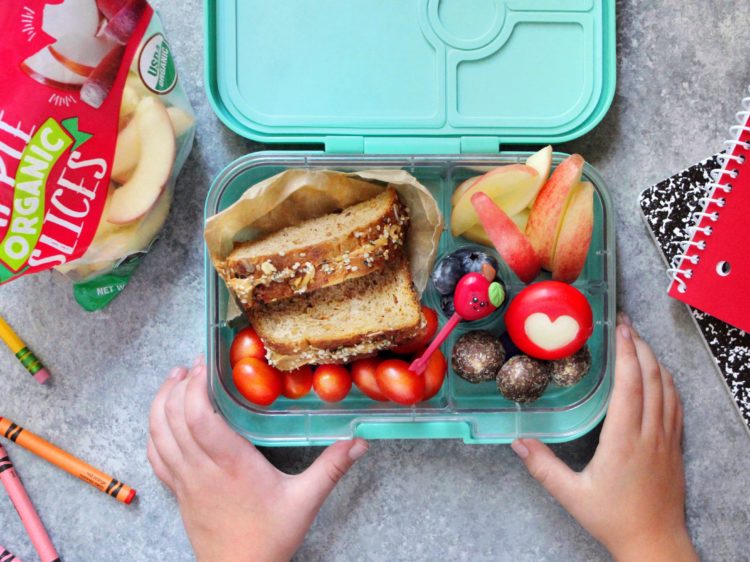 Hey Crunch Pak Blog readers! Lunches + Littles here and we are so excited to be taking over the Crunch Pak blog today to share a couple of our favorite lunch packing tips (and an easy *bonus* recipe)!
For most of us, school has been back in session for a couple of months now, which means that whether you love it or hate it- lunch packing season is here. So…. how many of YOU pack lunches? If you follow along on our feed, you know that we pack lunches almost daily for not 1, not 2, but 3 little ones! And, while packing up all of those lunches is something we enjoy doing (most days!), we also know that lunch packing can seem intimidating, hard, and even impossible to some. But, we promise- it can be easy and fun, and bonus- packing lunches is also typically a healthier and more cost-effective choice as well! So, let's talk tips….
1. PLAN AHEAD
Lunch packing isn't hard- when you have what you need. But oftentimes, lunch takes a backseat to other meals and those lunch boxes don't get thought through. While it can take a few extra minutes on the front end, making a lunch plan for the upcoming week can make things a whole lot easier. Now, this doesn't mean you have to plan out every little detail of every lunch, but do be sure to get sandwich bread and lunch meats, for example, or other main components as well as a variety of add-ins. Having these on hand will help take some of the guesswork out of what to pack on busy school mornings, and ultimately make the task easier.
A really easy way we like to prep is to make a bunch of peanut butter (or other nut/seed butter) and jelly sandwiches at once. About once a month we will make up a batch and freeze- then we just take them out of the freezer as needed, pop them in a lunchbox and by lunch time they will be perfectly thawed and ready to eat. Just look at how fun these homemade uncrustables are below!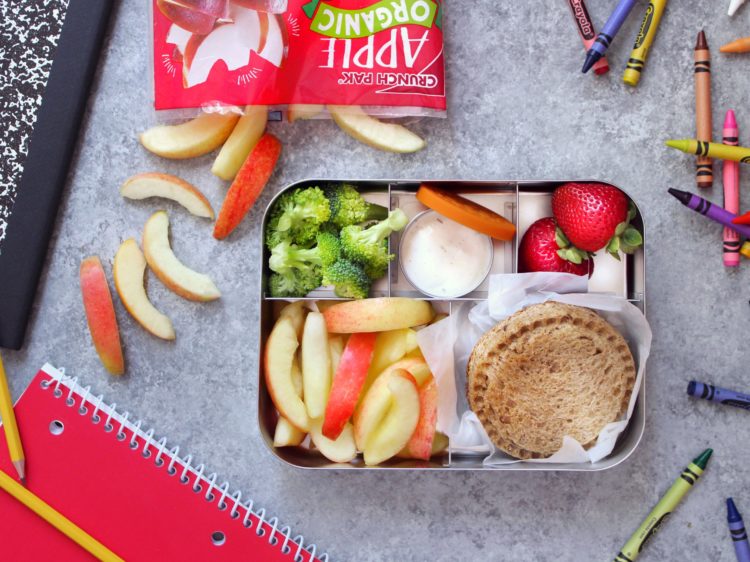 2. START WITH PRODUCE
We get a lot of questions about how we get our kids to eat a wide variety of foods. We also get a lot of questions regarding lunch box ideas. So here's what we do: when we shop for lunchbox add-ins, we always start with the produce section first. Think easy to eat fruits and veggies- especially if you have limited time to pack up lunches. Did you know that Crunch Pak offers delicious Apple Slices (skin on and also peeled varieties) both in larger bags for sharing and/or eating over time, as well as individual child-sized bags perfect for snack time or a lunch box. And, how good do their pre-cut slices look?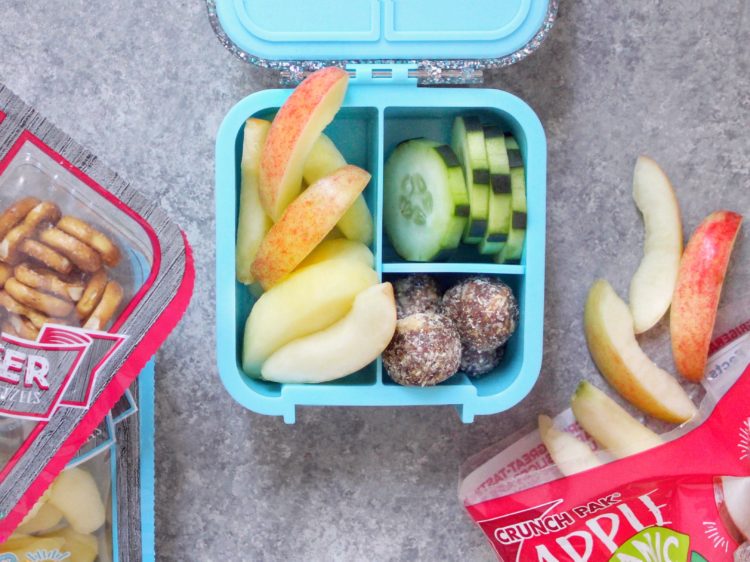 Quick tip: focusing on in-season produce is a great way to keep things fresh- literally! When we eat seasonally, there is a natural change in what is readily available at local markets and stores, and focusing on those items can help us with continuously offering a variety of foods. Additionally, when you buy seasonal produce, you save money and are always getting the best tasting fruits and veggies. Talk about a win-win!
3. PACK AND/OR REPURPOSE LEFTOVERS
Often when we think about packing lunch boxes we stick with things like sandwiches or wraps- and those are great options, but what about packing up leftovers? It may be somewhat non-traditional, but soups, meatballs, pasta dishes and more are wonderful options for lunches- and can help use up those leftovers in your refrigerator.
Quick tip: be intentional about cooking enough at dinner times so that leftovers are available for lunches. We don't always do this, but we do try and do it at least a couple times a week. Some of our favorite recipes to double up: our Sweet Harvest Pasta Salad (be sure to use Crunch Pak Apple Slices!), Vegan Macaroni and Cheese, Homemade Mini Turkey Meatballs, Broccoli + Cheese Toaster Waffles and more. Doubling up a batch can be so easy to do in the moment and have huge payoffs later (cook once- eat twice!)
And, if you want to really switch it up: turn leftovers into something entirely new. For example, make a meatball sandwich with leftover meatballs, or a waffle sandwich with freezer stash waffles. Using what you have on hand in a new way can turn boring leftovers into something new and exciting for little ones.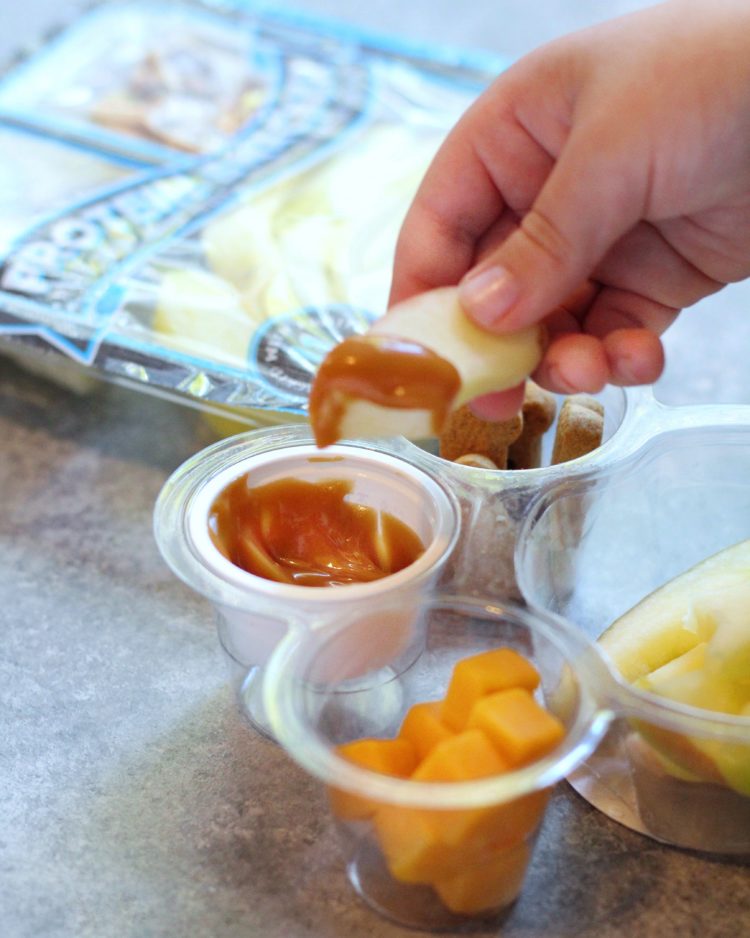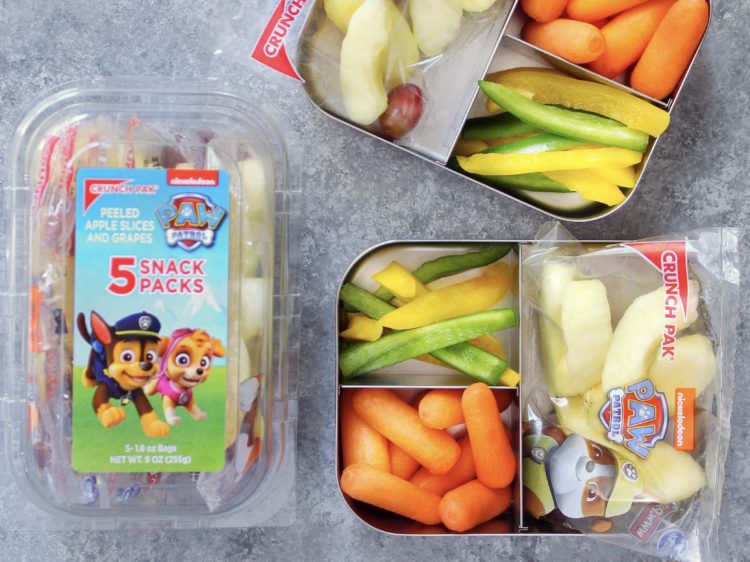 Oh, and if your kids just need a quick grab and go snack option, be sure to check out all of the snack options from Crunch Pak like their Protein Snackers, Foodles, Dipperz and more- all so great for sports, after-school snacks and more (and available in fun characters, like Paw Patrol shown above, Mickey Mouse and Friends- even Jo Jo Siwa). So fun, and definitely kid-approved! And, don't limit Crunch Pak to just lunches- their apples are perfect for all sorts of recipes you can whip up at home, or just eating straight out of the bag! See below for how we make delicious baked apples! So easy and delicious!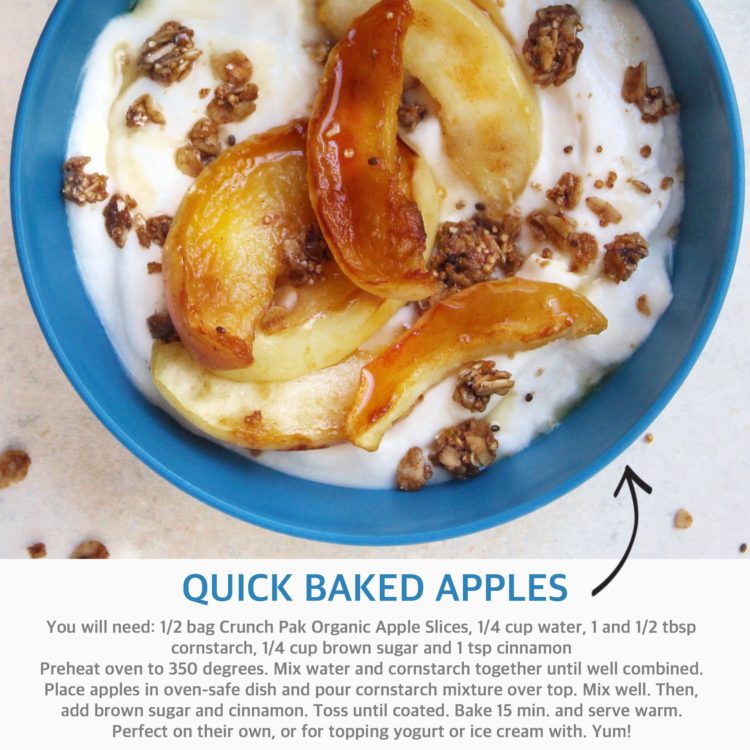 Whether you are packing up a sandwich or leftovers- be sure to plan ahead, load up on produce for easy, healthy, colorful options and consider leftovers for lunch! And, be sure to look for Crunch Pak Apples, Snack Packs and more at your local grocery store. They have a whole line of products that can definitely help lessen some of the stress associated with lunch (and snack) planning! And, if you aren't already- come on over and check out our feed Lunches + Littles for quick and easy recipes perfect for the whole family.