Your house is going to smell amazing when you whip up this easy Skillet Apple Cobbler recipe for dessert! I've even got a few shortcuts for you so you can be enjoying this soon!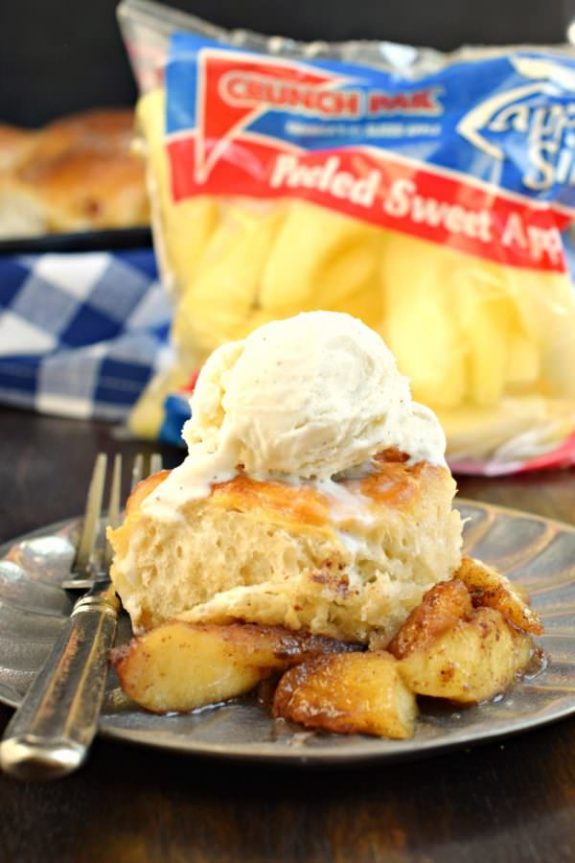 Summer is here and while everyone is making no bake desserts, I'm over here craving comfort food.
I can't help it. I love apple desserts! Apple Hand Pies, Apple Crumb Cake, Apple Bread…you get the drift.
But, since it's summer, I like to find a few shortcuts along the way, so that I can spend more time outdoors. Thankfully, my partnership with Crunch Pak apples is the perfect fit. Not only do I get to enjoy their delicious apple snacks, but I also can save time with slicing and peeling and just get right to baking!
Another shortcut? I love using refrigerated biscuits for this skillet dessert. It makes everything a whole lot easier, including clean up! Just throw that wrapper in the trash, no need to clean the counters from rolling out biscuit dough. However, if you prefer biscuits from scratch, you can totally do what works for you!
Another time saver with this recipe? It's made in a skillet from start to finish. You cook it on the stove top, then put it right into the oven in the same dish. This is truly one of the benefits of skillets! Here's the one I have: Cast Iron 10-inch Skillet.
A few tips about making today's Skillet Apple Cobbler recipe:
Start with a clean cast iron skillet (or a skillet that can go from stove top to oven)! Using Crunch Pak sliced (and peeled!) apples, just toss them into your hot skillet with the butter, cinnamon, nutmeg, brown sugar, and walnuts!
Letting that simmer, just a few minutes to soften the apples, now is a good time to have a cup of coffee and snack on some of those sliced Crunch Pak apples (you bought extra, right?)
Top the apple mixture with a roll of refrigerated biscuits. The big and fluffy kind! Send the skillet to the oven to bake!
While the apple cobbler is baking, have another cup of coffee, and whip up a little glaze. I know what you're thinking, more sugar? The answer is always yes. Adding a sweet glaze is perfect to this cobbler since the refrigerated biscuits are so big (and not sweet at all). Trust me on this!
Once it's done baking, drizzle the glaze on top and serve HOT. Oh, and add ice cream, because you know, it's SUMMER ?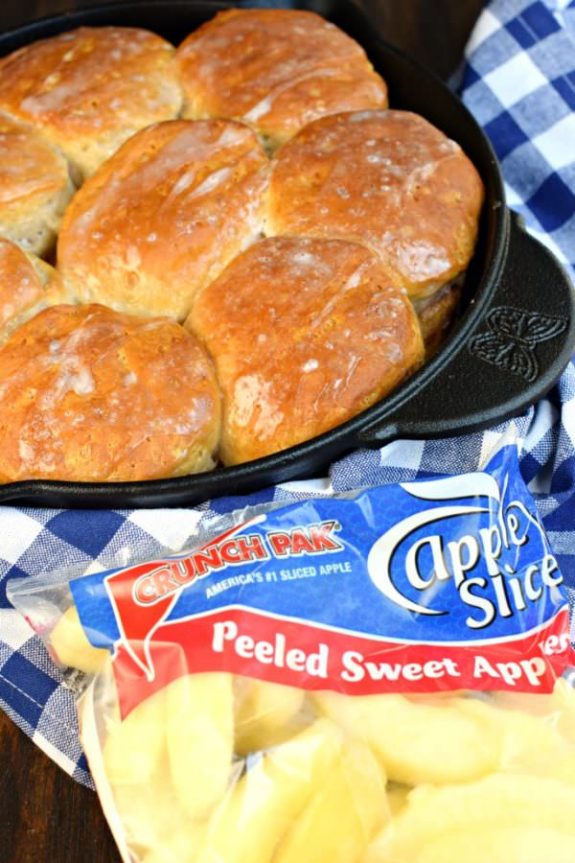 To find the recipe and even more summer snacking ideas, visit Aimee at Shugary Sweets!