Layers of crunchy apples, creamy cheesecake, and candy bars make this Apple Snickers Cheesecake Trifle an impressive no bake dessert. Perfect dessert for summer picnics or dinners.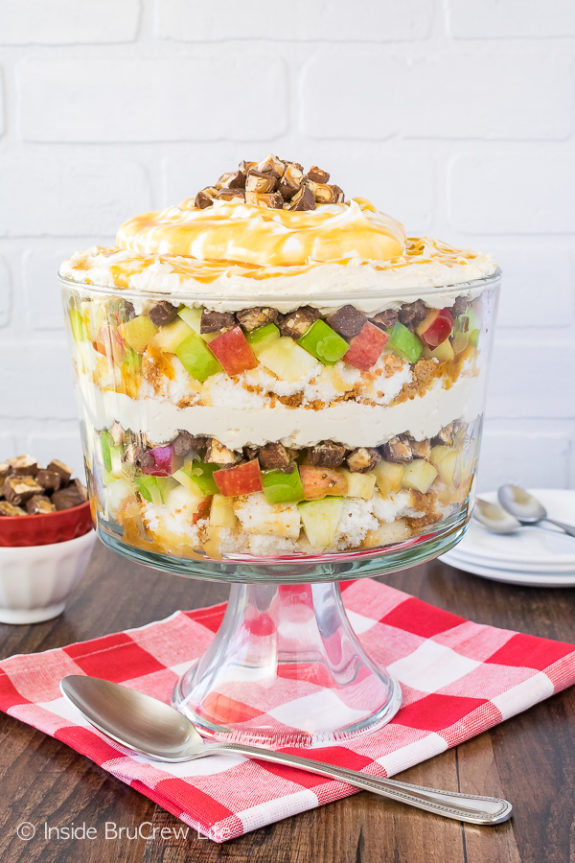 Our local grocery store offers a free cart service for their shoppers.  As a recipe developer, I frequent the grocery stores a few times a week.  One of these days, they are going to remember who I am.  Most of the times when I am there I'm wearing workout gear and a hat pulled down low.  There are a few times when I head to the store that I am actually ready for the day and wearing normal clothes.  Plus, I rotate stores each time I go too.  Fingers crossed this keeps me from being remembered.
What will get me remembered is if I actually take advantage of the cart service.  You see, I have a very bad habit of parking my car, grabbing my groceries, and forgetting where I parked.  And that's all in the time frame of about 30 minutes. I usually refuse the free grocery carry out and tell them I got it.
Not because I don't want the help, but because I don't want them to laugh at me when I can't find my car. Trust me, I'm sure that could be a hot topic in the break room.  Or maybe I'm just paranoid, but whatever the case I'm not going to chance it.  I'll continue to wander around the parking lot loaded down with all my bags rather than be giggled at.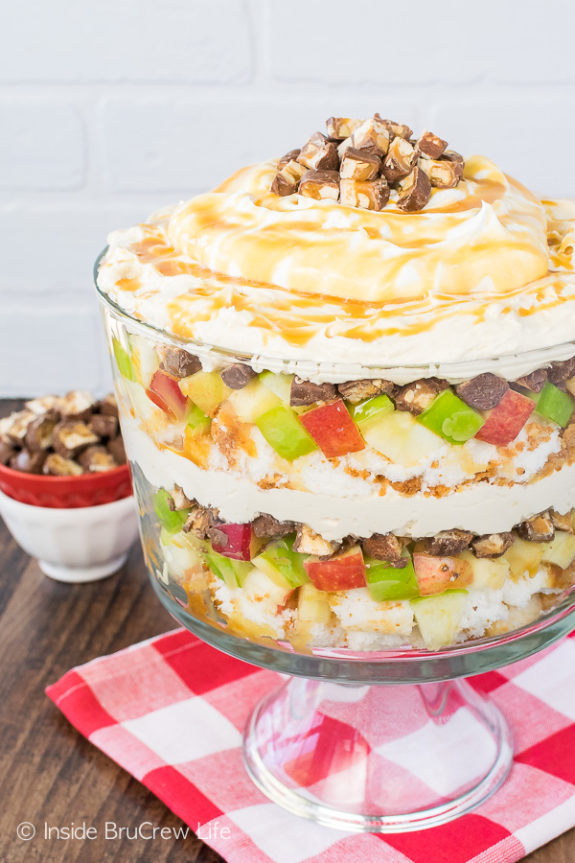 Now usually when I go to the store, it's because I ran out of one item that I absolutely need for a recipe that I'm in the middle of.  This trifle happened to be one of these recipes that had to be put on hold for a 3o minute break while I ran to the store quickly.
You see I thought for sure I had an extra jar of caramel in my pantry, but it turned out to be hot fudge.  I apparently didn't look too closely at the label and just assumed it was caramel.  And of course, the jar in the fridge was almost empty too because my family has been having ice cream sundaes and has been dipping their apples in caramel.
We always have bags of apples in our refrigerator ready to be dipped in caramel because I am a brand ambassador for Crunch Pak.  We also like to use their apples in delicious things like snickerdoodle apple cake or glazed cinnamon apple donuts.
I love having these pre-sliced apples available for our kids to grab whenever they get hungry.  Their favorites are the little snack packs that have cheese, pretzels, and apple slices. All three of our teenagers will fight over who gets the last one. Those cute little snack packs are not only for little kids.  Big kids love them too.
This month I decided to create a fancy dessert using the mixed apples in our fridge. The best part about this apple Snickers cheesecake trifle is that it is entirely no-bake.  Using a pre-made angel food cake and no bake cheesecake filling makes it such an easy dessert to put together.
Cutting everything up will take you longer than actually putting your dessert together.  To save some time on this dessert, I cut the cake and candy bars up the night before.  Then the next day, I just had to make the cheesecake filling, dice the apples, and make it look pretty in the big bowl.
Trifles are one of those awesome desserts that make everyone say "wow!". I think the layers must make it seem impressive or something.  We will let everyone think we slaved over the dessert.  Don't tell them our little no bake secret. Just smile and nod when everyone starts oooohing and aaahhhing!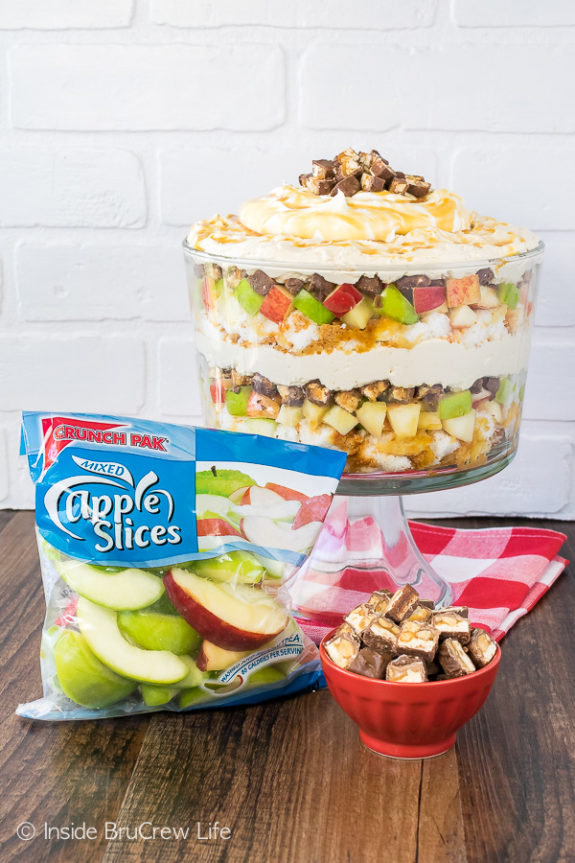 Ingredients
1 angel food cake, cut into cubes
2 – 8 ounce packages cream cheese, softened
1/2 cup brown sugar
1 cup caramel ice cream topping
1 – 8 ounce container Cool Whip, thawed
2 bags of Crunch Pak mixed apples, diced (6 cups)
1 – 10 ounce bag Snickers baking bites, quartered
Instructions
Set aside 2 Tablespoons of the candy bar pieces.
Beat the cream cheese and sugar until creamy. Add 1/2 cup caramel topping and beat again.
Fold 2 cups of Cool Whip into the cream cheese mixture gently.
Place half the cake cubes in the bottom of the trifle bowl. Place 3 cups of the diced apples on top of the cake. Arrange the ones on the sides so that the apple peels are showing on the outside of the bowl, if desired.
Drizzle 2 Tablespoons caramel topping over the apples. Sprinkle half of the chopped candy bars on top of the apples.
Spread half the cheesecake mixture on top of the apples and candy bars.
Repeat the layers again with the remaining ingredients ending with the cheesecake.
Spoon the remaining Cool Whip on top of the cheesecake and drizzle with caramel. Top with the reserved candy bar pieces.