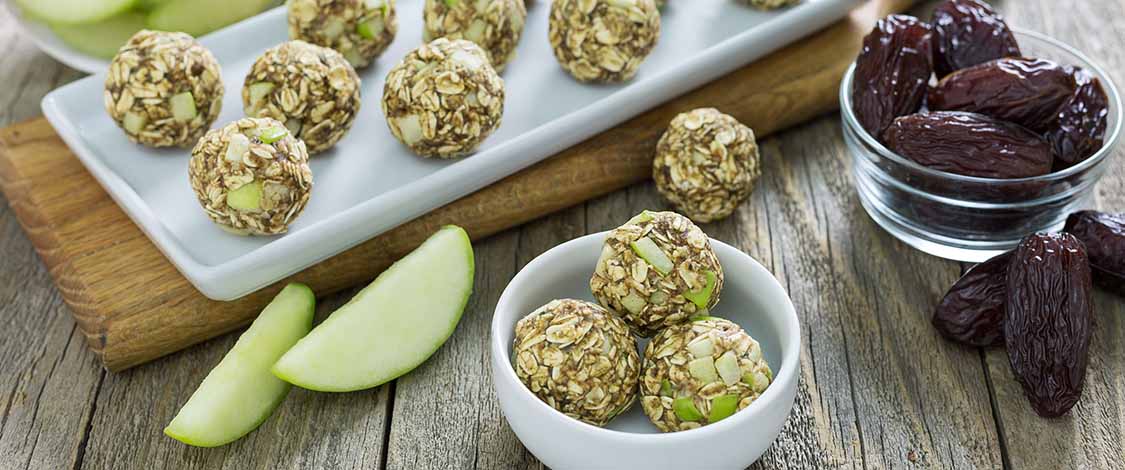 Apple Cinnamon Energy Bites
Filled with fresh apple, almond butter and Medjool dates, these no-bake apple energy bites are perfect for all-ages!
Prep Time:15 min
Total Time:15 min
Yields:9 servings
Calories:136
Ingredients:
1 cup diced Crunch Pak tart apple slices
3/4 cup Medjool Date paste
2 cups old-fashioned oats
1/4 cup hemp seed
3/4 teaspoon ground cinnamon
1 teaspoon vanilla extract
pinch salt
Method
Begin by dicing the apple slices and spreading them out on a paper towel to remove as much excess moisture as possible.
Add the remaining ingredients to a mixing bowl. Mix the ingredients together until well combined. Add the apples and stir to evenly distribute.
Measure two tablespoons of the mixture for each ball. Place the mixture in your hands and firmly squeeze it into ball shape. Roll it between the palms of your hands to smooth it out and keep it round.
Serve immediately or refrigerate for up to 2 days in an airtight container.
Recipe Tip:
TIP! A medium cookie scoop works great to create the energy balls.
Apple Cinnamon Energy Bites