This easy Maple Apple Walnut Cake is loaded with fruit and nuts. It's the perfect fall cake recipe for any party or dinner.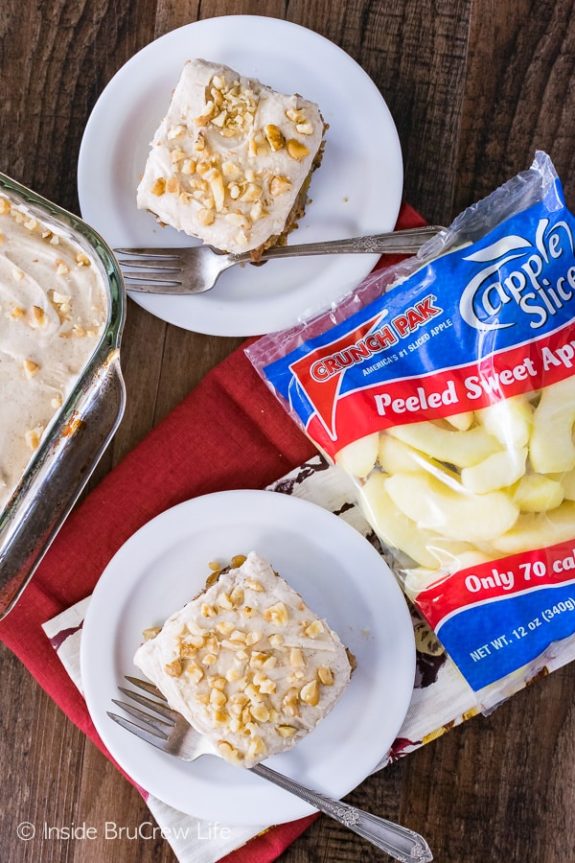 There are certain classes that you have to take in high school to graduate.  Some classes you remember even when you get to be my age, and then there are those classes like Geometry that you forget the minute you leave school.  Unfortunately, then you have children who get to that class and ask you to help them with their homework because dad isn't home at the moment.  Yikes!
I took one look at her problems and wanted to cry. After figuring out a few on our own, we had to do a FaceTime call with my hubby for help with the rest.  Plotting points and figuring out endpoints and lengths with the Pythagorean theorem is just not in my memory banks.
He explained it pretty well over the phone and I think both of us got it. After that homework session my brain hurt so bad, so dessert was a must that night. Homemade chocolate chip brownies always help in any situation. Am I right?
The extent of my math memory is really just simple basic addition. Things like angles, lengths, points, and planes have been forgotten long ago.
I prefer to rely on using my basic math skills in the kitchen for working with ingredients. A few weeks ago I figured out that apples + walnuts + maple frosting = the best darn fall cake you will ever have! It's just how my mind works. Dessert math always works out for me. Well, most of the time anyway. We won't talk about the few failures that end up in the garbage can.
I am so excited to share another Crunch Pak apple recipe with you as we head into the fall months. Apple and pumpkin recipes are getting me excited to bake! How about you? Hopefully you are ready to bake up a storm because I've got some good recipes coming here on the blog as those temps start to drop.
A few years ago I made this apple praline cake, and it has held the number one apple spot on the blog. Until now. Oh, my goodness! I can't even begin to describe to you how good this new cake recipe is. There is so much fruit and nut goodness loaded into this soft and fluffy fall cake!
The creamy maple spice frosting compliments it so well too. But don't take my word for it.  Run out and buy a bag of sliced apples today, so you can enjoy this maple apple walnut cake all weekend long.
One of my favorite things to get for breakfast when I am on the go is the maple fruit oatmeal at McDonald's. I love all the chunks of apple, raisins, and walnuts in each bite, so I decided to incorporate all those ingredients into this easy apple cake.
I realize that some people have issues with raisins in their desserts, but I am not one of those people. You will find two different varieties of raisins in this cake because I like them so much. Feel free to leave them out if they freak you out too much. Honestly though, I love finding a chewy raisin or crunchy walnut chunk in every bite of my cake.
Looking for more apple recipes to indulge in this fall?  Here are a few that I found that look amazing. Pull out the crock pot and make this Slow Cooker Apple Cakefrom Shugary Sweets. Add a scoop of vanilla ice cream and dig in. This Apple Monkey Bread from That Skinny Cook Can Bake sounds perfect for fall mornings! And this Honeycrisp Apple Sangria from Nutmeg Nanny would be the perfect weekend drink to relax with! Enjoy!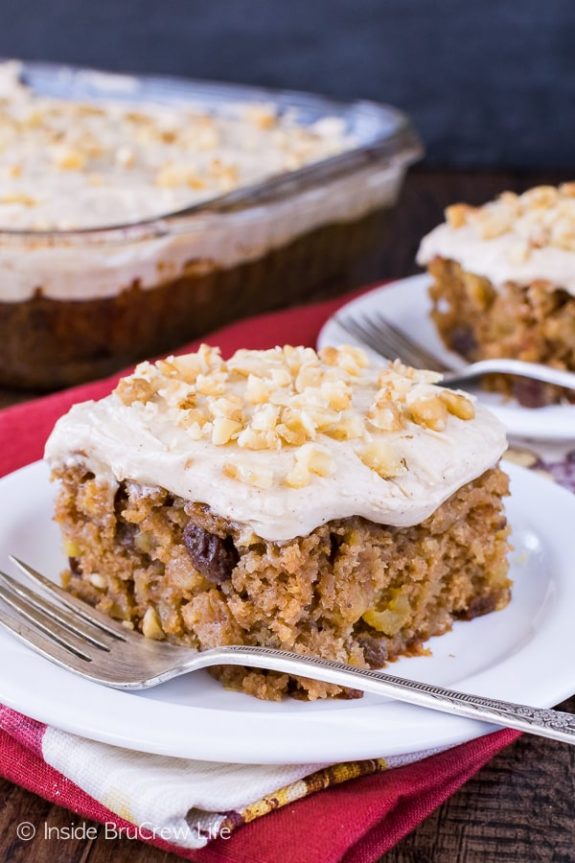 To find the recipe and even more summer snacking ideas, visit Jocelyn at Inside BruCrew Life!