NOVEMBER 5, 2019—Crunch Pak sure knows how to make kids happy during career day at the college. This day allows high school and college students  to explore and learn about various career opportunities.
This year, 2000 students from all over North Central Washington attended to discover career paths while networking with over 100 potential employers.
Crunch Pak came in style to this event with over a pallet of goodies that our amazing employees, Angie and Gail, helped pass out.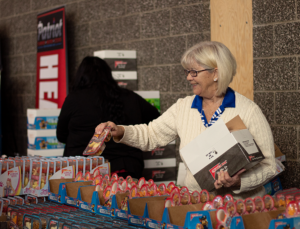 Students came to network with us, learn about what our company does, but mostly to learn about the delicious, healthy, nutritious snacks we provide. Angie was there to answer any hiring questions, while Gail had a blast giving treats to deserving students. Over a pallet of product was handed out to all the students, staff, and vendors.

Crunch Pak loves to give back to the community because it's our way of showing gratitude for what our community continues to do for us. We thank you for your continued support throughout the years of Crunch Pak.