With summer fast approaching, I'm always on the hunt for easy dessert ideas.
While ice cream and popsicles are always a good option, sometimes I just crave comfort food. Even on a 90 degree summer evening!
But, who wants to slave over baking a pie, and rolling out a pie crust? Not me.
Enter: Apple Cheesecake Napoleons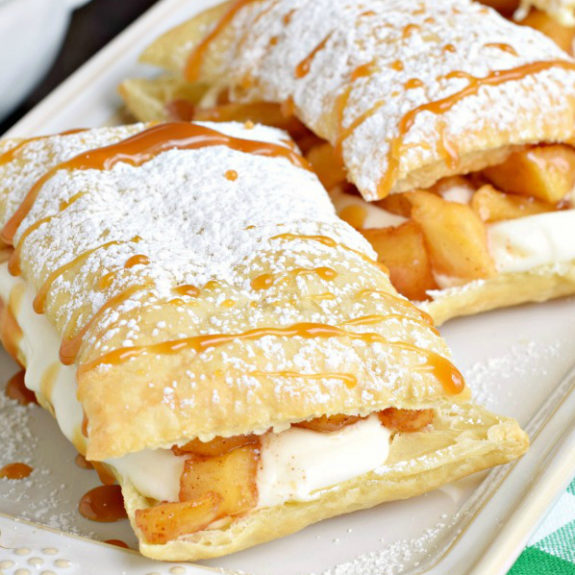 I use frozen puff pastry that I thaw on my counter. If you prefer to make your own, more power to you. But, honestly, after mowing the lawn, sitting at the pool, and running errands, I ain't got time for homemade.
Another fast and easy ingredient I use is Crunch Pak apples. These sliced up apples are my answer to dessert. I love making a big plate of Apple Nachos. Best thing ever.
In today's recipe, I bought the bigger bag of Crunch Pak apples and peeled and diced them quickly. While the puff pastry was thawing and baking, I whipped up the caramel apple mixture on the stove top in under ten minutes. I refrigerated this until I was ready to assemble my dessert.
I also make the cream cheese filling and refrigerated that as well.
Once the puff pastry was done baking and cooling, you can store in an airtight container until dessert time. This is a great recipe to make all the essentials in the morning. Then come dessert time, just assemble and enjoy!
And you will enjoy these! I guarantee! Okay. Well, it's not like I'll give you your money back or anything…but I pinky swear that these taste amazing!
While we're out at the pool, I'll be snacking on some bags of Crunch Pak Apple slices. The organic variety that I find at my local Costco is my favorite. The snack bags are a little larger, which is perfect for my hungry teens!
Be sure to stop on over to Crunch Pak for some delicious recipes and ideas!
Apple Cheesecake Napoleons
yield: SERVES 6
prep time: 40 MINUTES
cook time: 13-15 MINUTES
INGREDIENTS:
1/2 box (1 sheet) puff pastry
1 package (8 oz) cream cheese, softened
1/2 cup granulated sugar
2 Tbsp heavy cream
4 cup sliced Crunch Pak apples
1/2 cup light brown sugar, packed
1 tsp cinnamon
2 tsp lemon juice
powdered sugar, for garnish
caramel ice cream topping, for garnish
DIRECTIONS:
Thaw puff pastry on counter according to package directions (takes about 30-40 minutes).
Unfold pastry and cut along the two seems (into 3 rectangles). Then cut horizontally, creating 6 pieces. Place on a parchment paper lined baking sheet and bake in a 400 degree F oven for 13-15 minutes until lightly browned. Remove from oven and cool completely. Once cooled, slice in half lengthwise through the center. Set aside or store in airtight container until ready to assemble.
For the filling, beat cream cheese, sugar and cream together for 5 minutes, scraping down the sides of the bowl as necessary. Set aside, or refrigerate until ready to assemble.
While thawing the puff pastry, peel and dice the Crunch Pak sliced apples until you have 4 cups. Place in a large saucepan with brown sugar, cinnamon and lemon juice. While stirring, bring mixture to a boil over medium high heat. Reduce to medium and cook for 5-8 minutes, until apples are fork tender. Remove from heat and cool. Once cooled, assemble napoleons or refrigerate apple mixture until ready to assemble.
To assemble: open all the puff pastries and evenly divide the cream cheese mixture on the bottom "bun". Top with caramel apple mixture. Place puff pastry tops on and sprinkle generously with powdered sugar. For added caramel flavor, drizzle with your favorite caramel sauce! Serve immediately after assembling!