Creamy frosting and a dusting of cinnamon sugar will make this Snickerdoodle Apple Cake disappear in a hurry. One bite and you will be ready to devour your entire piece in seconds.
This week I sabotaged all of our healthy eating plans…with apples. I know that sounds kind of funny.  I mean how can you ruin healthy eating with a fruit, right?
Well, if you are me, you dice those apples into bits and toss them into cake batter. Those bags of apples in the fridge didn't know what was happening.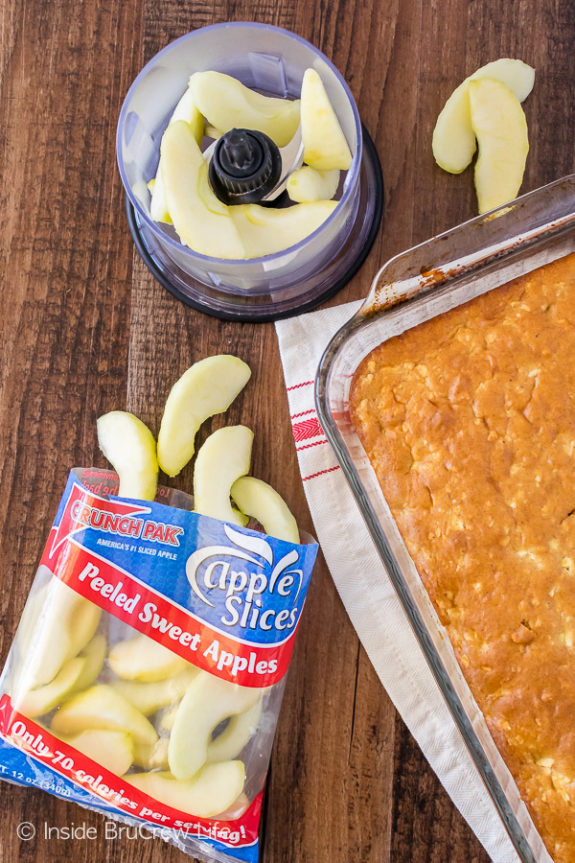 The idea for this sweet cake has been rolling around in my head for some time now.  This week I finally put it together and then promptly ate half of it. I tried to keep telling myself that it was ok because I was just eating fruit. Okay, fine. It was fruit covered in the creamiest, most delicious frosting ever!
One of the perks of working with Crunch Pak apples is that we get bags and bags of fresh apples during the month that I am creating a recipe. My kids love having apples in the fridge, so that they can pack them in their lunches or eat them anytime.
I love having bags of apples on hand because I like to bake things like this apple praline cake and apple Snickers cake. Anyone else sensing a pattern? Apparently, I prefer my apple a day in cake form.
The past few apple cakes that I have made have been totally from scratch. So, this month I decided to show you how to jazz up a cake mix with three kinds of apple love.
Apple juice, applesauce, and fresh shredded apples give this fluffy cake a delicious apple flavor. I added some cinnamon to the batter and the frosting, so that the cake had more of a snickerdoodle taste too.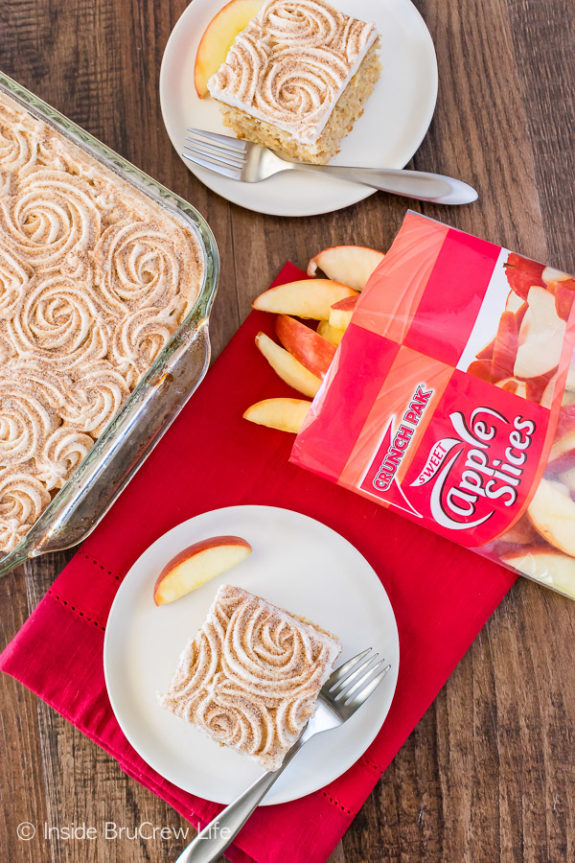 To finish the cake off I sprinkled cinnamon sugar on top of the frosting swirls. The last touch was to place an apple on top of the cake slices, so that they looked even prettier. I guess that means this cake actually has four times the apple love!
Our oldest son got home from school and had cake as soon as he walked in the door.
His exact words were that this cake was phenomenal! He also blamed me for ruining all his healthy eating plans for the week because now all he wanted was cake.
I know what you mean, son.  Eating two large pieces of this snickerdoodle apple cake probably wasn't the smartest thing I did because now my skinny jeans hate me. But holy heck, did it taste great! I just couldn't help myself.
Creamy frosting and a dusting of cinnamon sugar will make this Snickerdoodle Apple Cake disappear in a hurry.
Ingredients
For the Cake
1 vanilla cake mix
1 – 3.4 ounce box instant vanilla pudding
3/4 cup apple juice
1/3 cup applesauce
4 eggs
2 teaspoons cinnamon
1 teaspoon nutmeg
1 1/2 cups shredded peeled Crunch Pak apples
3 teaspoons flour
For the Frosting
1 cup butter, softened
1 Tablespoon vanilla extract
1/2 teaspoon salt
1 teaspoon cinnamon
4 cups powdered sugar
6 Tablespoons heavy whipping cream
For the Topping
2 Tablespoons sugar
1 teaspoon cinnamon
sliced Crunch Pak apples
Instructions
Preheat the oven to 350 degrees. Spray a 9×13 pan with nonstick spray.
Mix together the cake mix, pudding mix, apple juice, applesauce, eggs, cinnamon, and nutmeg. Beat on low speed for 1 minute, and then 2 minutes on medium speed.
Stir together the apples and flour, and then gently stir into the cake batter. Spread the batter in the prepared pan. Bake for 35-38 minutes or until a toothpick inserted in the center comes out mostly clean. Let cool.
Beat the butter and vanilla until creamy. Add the salt and cinnamon and beat again.
Slowly beat in the powdered sugar and heavy whipping cream until light and fluffy. Spread on the cooled cake.
Mix together the sugar and cinnamon. Sprinkle on top of the cake. Serve slices of cake with apple slices.
Notes
*You can also use a piping bag and large icing tip to swirl the frosting on top of the cake.
Save
Save