A sweet glaze and sugared cranberries add a fun & festive flair to this Apple Cranberry Bundt Cake. This easy fruit cake is the perfect holiday dessert.
Do you have those moments?  The times when you know something, but then it hits you like a ton of bricks.  I am feeling like that right now.  There are only 11 days until Christmas.  I have a calendar on my computer and phone, so each day I see the date.  But today I looked at that date and felt a little bit of panic set in.
There are still some decorations to get up, presents to buy, and cookies & fudge to make. It's time to really get on it.  Time to figure out what everyone wants and do some online shopping.  Gotta love shopping in your sweats, right?
This past weekend we went to a few different holiday parties and of course I brought dessert.  One of these days I'm going to totally surprise people and show up with appetizers.  Since everyone else always beings dessert, we won't be hurting for a sweet treat.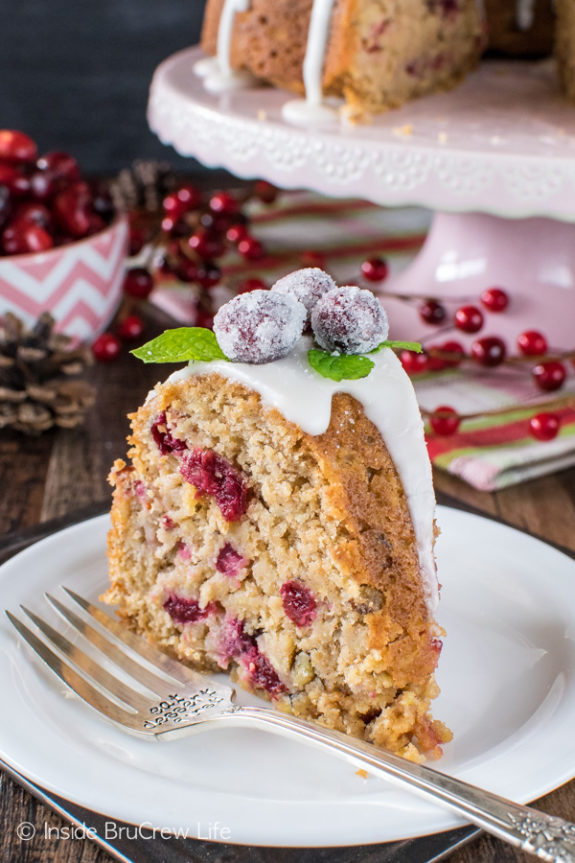 For one of the parties, I brought an apple cake pop.  It wasn't my favorite, but I had some baking issues that day with some other cookies, so it was all I had on the counter to share.  Now they weren't terrible, but they were not my favorite either.  The apple flavor got lost with the chocolate and cinnamon coating.
So it was back to the drawing board for another apple recipe I could make using all the apples in my fridge.
I am so excited to partner with Crunch Pak apples again for another year of fun recipes.  We love keeping boxes and bags of their sliced apples in our fridge for quick and easy snacking.
I decided to give this caramel apple bundt cake a Christmas twist using cranberries and pecans.  It turned out so good.  The cake has a dense texture giving it a fruit cake feel.  I think adding candied cherries, orange zest, and coconut would be really good in it too.
Here are some tips for making this apple cranberry bundt cake:
Spray your bundt pan with a nonstick baking spray like Baker's Joy.  This spray keeps your cake from sticking to the pan.
Make sure you beat the butter and sugar until it is light and fluffy. This adds air to the mixture giving your cake a little bit lighter texture.
Stir together all the dry ingredients into one bowl and stir.  It is easier to add all the dry ingredients this way.
Shred the apple slices using a food processor or a grater.
Stir the fruit and nuts into the cake gently and spoon into the prepared pan.
Bake the cake.  All ovens bake differently so start checking your cake around 55 minutes. Insert a knife into the center.  The cake is done when it comes out mostly clean.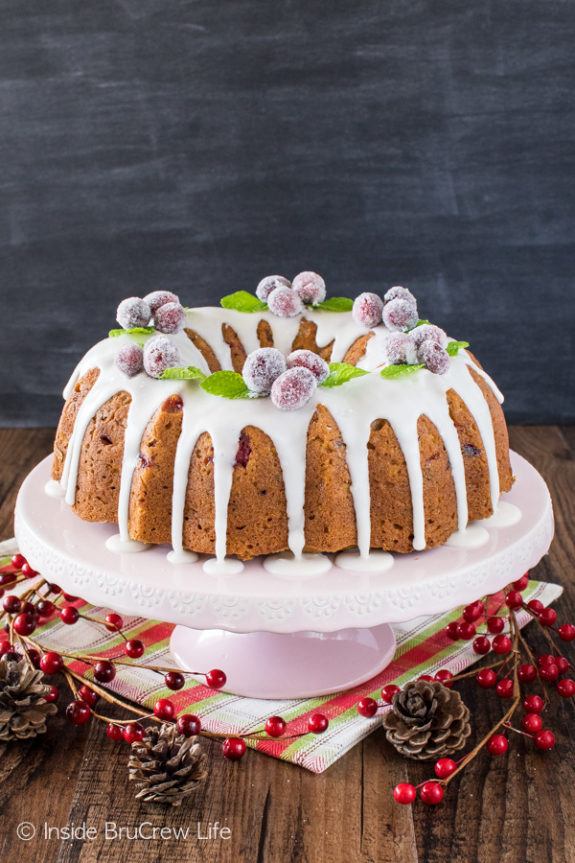 Ingredients
For the Cake
1 cup butter, softened
1 cup sugar
1/4 cup applesauce
1/4 cup sour cream
2 eggs
1 teaspoon vanilla extract
1 teaspoon rum extract
3 cups flour
1 Tablespoon cinnamon
1 1/2 teaspoons nutmeg
1/2 teaspoon ginger
1/2 teaspoon ground cloves
1 teaspoon baking soda
1/2 teaspoon salt
3 cups shredded Crunch Pak peeled apples
1 1/2 cup halved fresh cranberries
1/2 cup finely chopped pecans
For the Topping
1/2 cup sugar, divided
1/4 cup water
1/2 cup fresh cranberries
1 cup powdered sugar
5 teaspoons apple juice
mint leaves, optional
Instructions
Preheat the oven to 350 degrees. Spray a 12 cup bundt pan with nonstick baking spray that has flour in it as well.
Beat the butter and sugar until light and fluffy. Add the applesauce, sour cream, eggs, and extracts and beat again.
Stir together the flour, cinnamon, nutmeg, ginger, cloves, baking soda, and salt. Slowly add to the butter mixture beating until everything is mixed in.
Stir in the shredded apples, cranberries, and pecans by hand. Spoon into the prepared pan. Bake for 55-65 minutes, or until a knife inserted in the center comes out mostly clean. Do not over bake.
Remove from the oven and cool in the pan for 10-15 minutes. Place a plate over the top and flip the cake out. Let cool completely.
Bring 1/4 cup sugar and water to a boil in a small saucepan. Remove and let cool. Add the cranberries and stir to coat. Let them sit for an hour or more, and then roll the berries in the remaining sugar. Place on a plate to dry.
Whisk together the powdered sugar and juice. Spoon over the top of the cake letting it drip down the sides. Top with the sugared cranberries. Garnish with mint leaves right before serving. Cut into 12 slices.