Crunch Pak's all-star team of contributors is constantly looking for fun, innovative, and easy-to-follow recipes that showcase what Crunch Pak is all about; our great-tasting apples. Aimee and Shugarysweets created a cozy recipe that is tasty anytime of the day.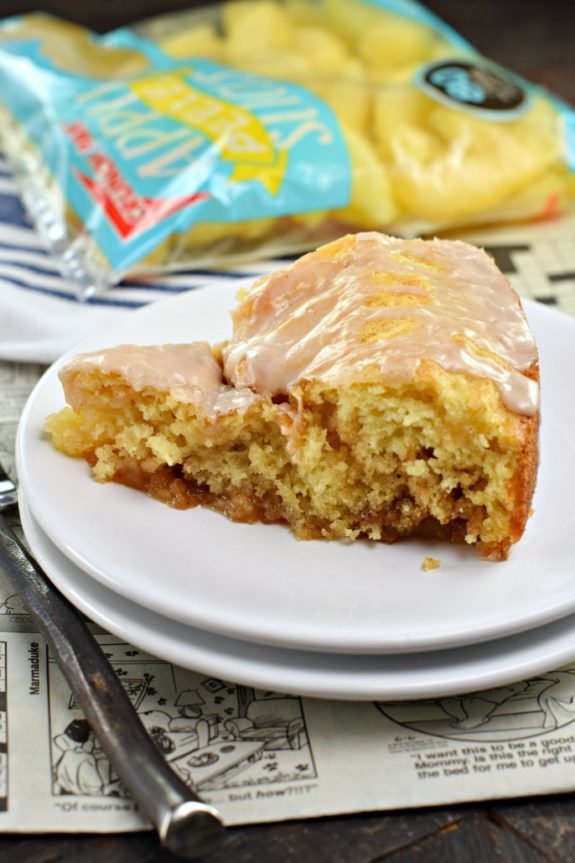 Breakfast just got a whole lot tastier with this Apple Cinnamon Roll Coffee Cake recipe! Easy to assemble, hard to wait for it to finish baking!
INGREDIENTS:
FOR THE CAKE BATTER:
1 1/2 cups all-purpose flour
1/2 cup granulated sugar
1/4 tsp kosher salt
3 tsp baking powder
1/2 tsp baking soda
3/4 cup milk (I use fat free)
2 large eggs
1 tsp vanilla extract
FOR THE FILLING:
6 Tbsp unsalted butter, softened
1/2 cup light brown sugar, packed
1 tsp cinnamon
1 cup (about 6 oz) Crunch Pak sliced apples, diced finely
FOR THE GLAZE:
1 1/4 cup powdered sugar
2 Tbsp milk
1 tsp cinnamon

DIRECTIONS:
Preheat oven to 350°F. Grease a 9-inch cake pan with baking spray, and line the bottom only with parchment paper. Set aside.
In a large mixing bowl, combine flour, sugar, salt, baking powder, baking soda, milk, eggs, and vanilla. Beat until well combined. Pour into prepared cake pan.
In mixing bowl, combine softened butter with brown sugar and cinnamon until creamy. Fold in diced apples. Drop by teaspoon onto batter. Swirl with a knife.
Bake for 30-33 minutes. Remove from oven and cool in pan about 5 minutes. Remove from pan and place on a cake plate.
For the glaze, whisk together sugar, milk, and cinnamon. Drizzle over warm cake and enjoy immediately!